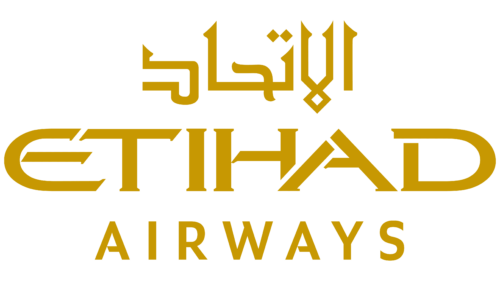 Etihad Airways Logo PNG
The Etihad Airways logo is a symbol of wealth, luxury, and high quality. It consists of three levels, where the top level is indicated in Arabic and emphasizes the global international character of the company.
On the second level, "ETIHAD" is written in golden color, representing the services' richness and high quality. The golden color is sunlight, which symbolizes the energy and optimism that the brand conveys to its passengers.
On the third level, "AIRWAYS" is written in a thinner and smaller font, which shows a harmonious combination between "ETIHAD" and "AIRWAYS." They are an integral part of the logo and are a high level of comfort and service that passengers receive.
The meaning of the Etihad Airways logo stems from the promise of high-quality service and comfort and the company's global, international focus. The logo's values include professionalism, luxury, innovation, and technological progress.
In general, the Etihad Airways emblem is a symbol of the expression of wealth, luxury, and high quality, combined into a single, stylish composition.
Etihad Airways: Brand overview
| | |
| --- | --- |
| Founded: | 2003 |
| Founder: | Etihad Aviation Group |
| Headquarters: | Khalifa City, Abu Dhabi, United Arab Emirates |
| Website: | etihad.com |
Etihad Airways, the second largest airline in the United Arab Emirates, has its headquarters based in Abu Dhabi. It was founded under a royal decree in 2003 and took to the skies the following year, marking the start of a new player in the UAE's aviation industry. The primary hub for its operations is the Abu Dhabi International Airport.
As we move into 2023, Etihad continues to expand its reach, serving over 70 destinations worldwide. Its network spans continents, touching various points in Europe, Asia, Africa, Oceania, and the Americas. The fleet maintained by Etihad comprises a mix of Airbus and Boeing aircraft, including the Airbus A380, Boeing 787 Dreamliner, and Boeing 777, among others. Its cabin offerings range from First Class and Business Class to Economy, catering to various customer preferences.
Etihad Airways is known for its focus on onboard experiences. Its premium cabins have exclusive lounges and dining facilities, a state-of-the-art in-flight entertainment system, and many amenities that enhance passenger comfort. In its journey thus far, Etihad has forged codeshare agreements with over 40 airlines and is a member of two major global airline alliances, oneworld and SkyTeam.
Renowned for its excellent service standards, Etihad's commitment to delivering a superior customer experience has not gone unnoticed. It has been awarded for the quality of its premium cabins, onboard catering, and overall service quality. The airline, which the Abu Dhabi government wholly owns, is one of the key players driving tourism, trade, and commerce in the UAE.
Meaning and History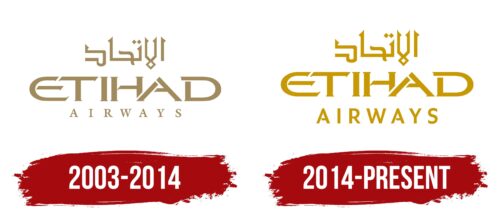 2003 – 2014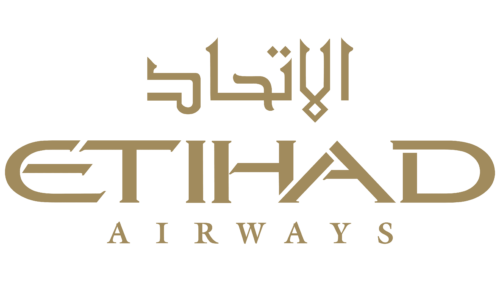 2014 – today
Etihad Airways color codes
Satin Sheen Gold

Hex color:
#c79802
RGB:
199 152 2
CMYK:
0 24 99 22
Pantone:
PMS 7555 C