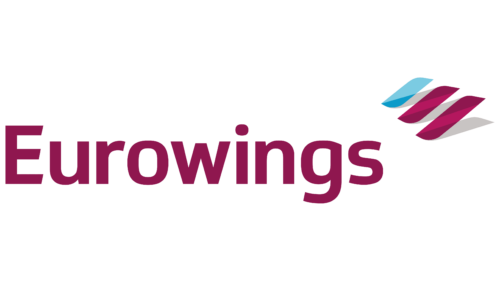 Eurowings Logo PNG
The Eurowings logo is like a mixtape in the world of air travel. It has a little bit of everything in it, but it's just the way it is. Think about that feeling when you find a great deal on a flight and realize you don't have to give up legroom or a free snack to get it. That's exactly what this logo screams to you. If Germany were a school, Eurowings would be the smart kid who somehow manages to be cool. They've found a way to balance the budget without looking cheap, just like Germany itself, a country of ancient castles and advanced technology. So when you see the Eurowings logo, it's like finding the perfect German pretzel: inexpensive, delicious, and so good you'll want to come back for more.
Eurowings: Brand overview
German low-cost carrier Eurowings has a unique and eventful history that has seen it become a leader in the airline industry. Since its formation in 1990 as part of the Lufthansa Group, Eurowings has experienced remarkable growth and transformation.
Eurowings was formed on February 1, 1990, from the merger of two commuter airlines, Nürnberger Flugdienst (NFD) and Reise- und Industrieflug (RFG).
Since its launch in 1994, Eurowings has targeted economy travelers with affordable air travel options. Inheriting a fleet of ATR 42 and 72 aircraft from its predecessors, Eurowings quickly gained popularity among those looking for economical flights.
Driven by ambition, Eurowings began to expand its operations in 1996, creating an extensive network of domestic and European destinations. With bases strategically located in Germany, Austria, and even popular tourist destinations such as Palma de Mallorca and Pristina, Eurowings provides convenient access to a wide range of destinations.
Meaning and History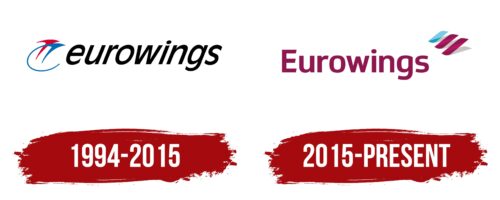 What is Eurowings?

Eurowings was born in 1996 as a subsidiary of the Lufthansa Group. It quickly gained prominence in the European air transportation market, expanding its presence by serving a wide network of domestic and European destinations. The company has bases at several airports in Germany and Austria, as well as in Palma de Mallorca and Pristina. Initially, long-haul routes were also part of air transportation. However, these were subsequently phased out, allowing the airline to focus on its core offerings in the domestic and continental European markets.
1994 – 2015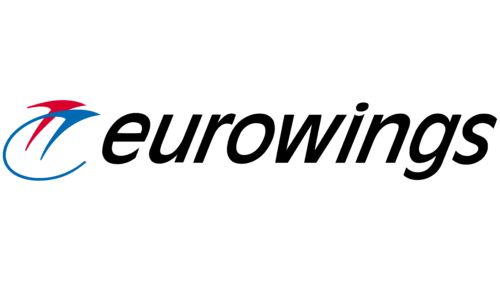 2015 – today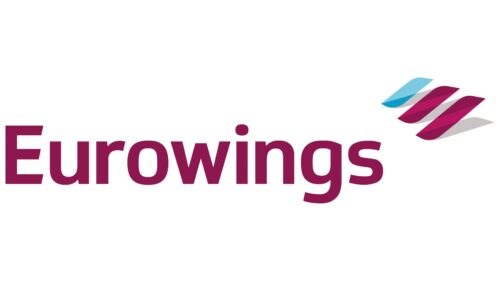 The logo of this company is dominated by the color maroon, which is associated with prestige, luxury, and high-quality service. Despite this, Eurowings is a budget airline. The main area of the emblem is occupied by the name of the company, typed in bold sans-serif font. The letters have unique features: for example, the letter "E" has oblique cuts at the ends of all three horizontal strokes, and the rounded part of the letter "g" is drop-shaped. At the top is an abstract pattern of three diagonal stripes. Two of them are maroon, and one is blue. These stripes represent stylized wings.
The contrast between the burgundy color and the budget nature of the airline creates an intriguing juxtaposition, potentially signaling that affordable flights don't have to be at the expense of quality or style. The abstract design of the wings emphasizes the company's focus on aviation, while unique typographic elements give the brand a modern, personalized feel. The inclusion of a single blue stripe amongst the maroon stripes brings variety to the design, symbolizing the airline's wide range of destinations.