Gatorade is an American brand of isotonic drinks and sports nutrition products. The company hailed from the city of Chicago, Illinois, and appeared in 1965th year. The brand was founded by Robert Cade, Dana Shires, Alejandro de Quesada, and Harry James Free and is now owned by PepsiCo Corporation.
Meaning and History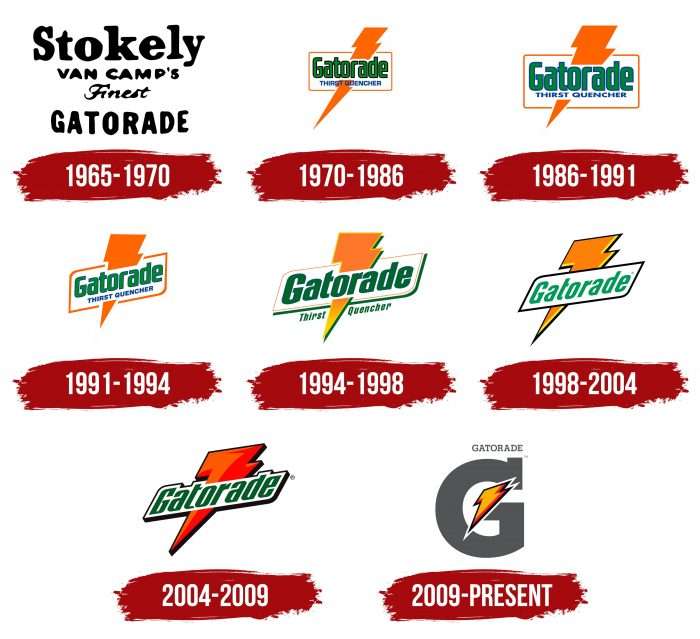 The original logo looked different than the modern one. After the redesign carried out in the 1970s, he got a completely different look, which was known until 2008. The only thing that remained unchanged in it was lightning.
1965 – 1970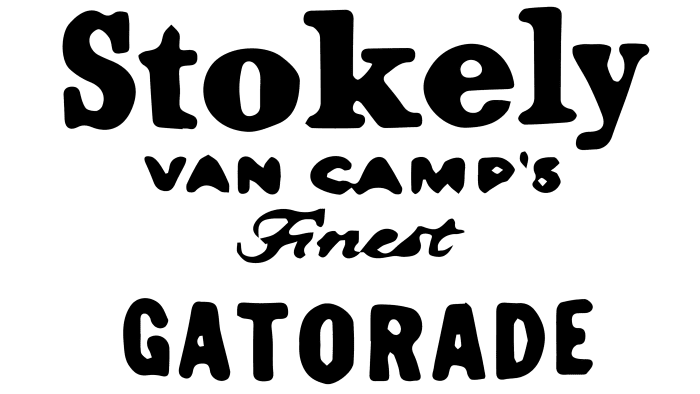 The debut logo consists of a combination of black letters written in different fonts.
1970 – 1986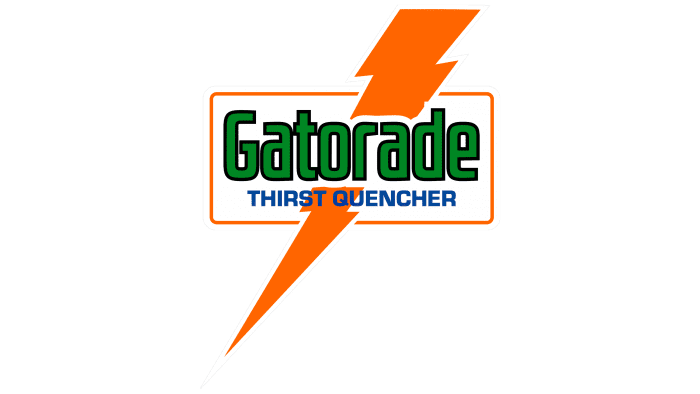 This year, a cult image of a flash of lightning arose. It was very large and permeated the name, as well as the text below it. The main colors of the trademark are orange, aquamarine, and blue.
1986 – 1991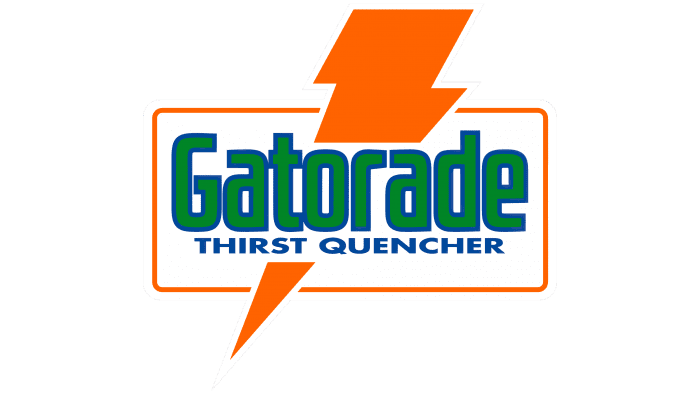 During this period, the owners changed the style of writing some letters.
1991 – 1994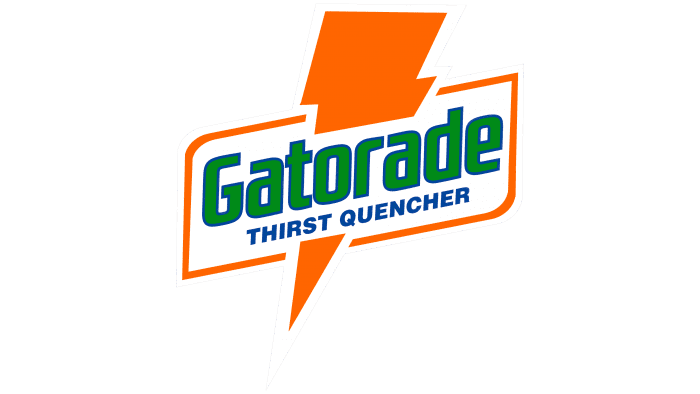 In this version, the cult lightning was left unchanged, correcting only the name of the drink and the phrase "Thirst Quencher". They were placed at an angle, and a sharp edge was added to the frame.
1994 – 1998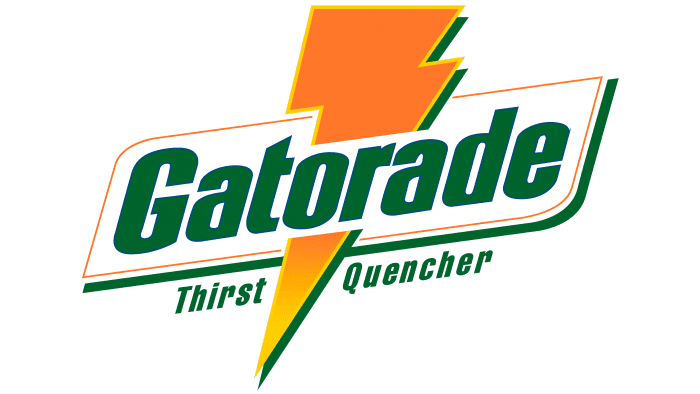 The 1994 variant got a shaded line on the right and bottom. The lower inscription was carried outside.
1998 – 2004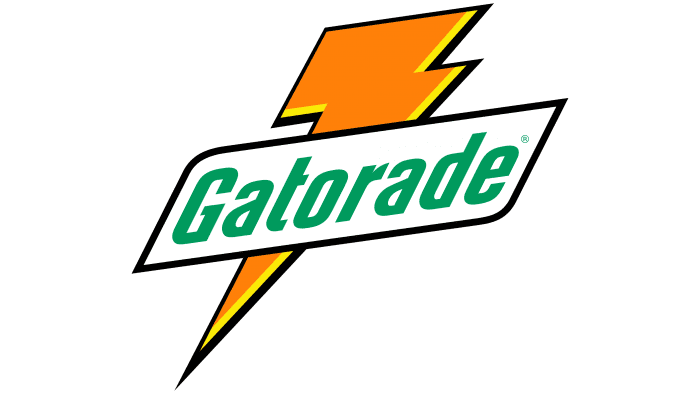 The next adjustment of the trademark made it possible to create a simple and memorable logo that is recognizable in a modern label. The developers completely removed the words Thirst Quencher.
2004 – 2009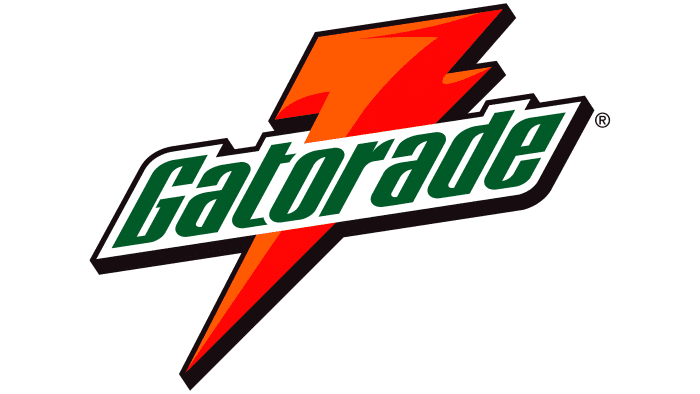 A-frame around the name disappeared from the emblem – the letters received a white background with a curly border. The lightning turned bright orange, almost red.
2009 – present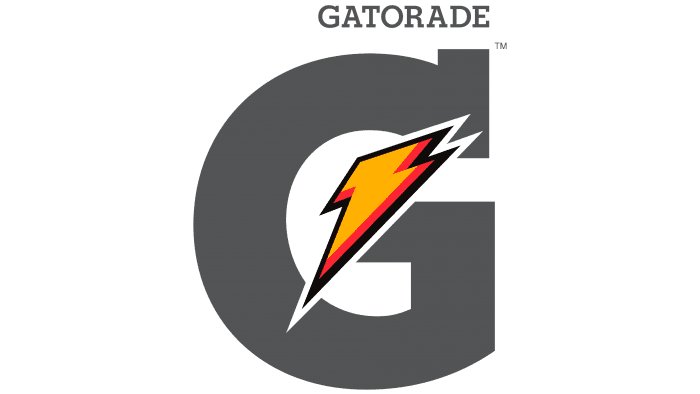 Designers completely redesigned the corporate logo: enlarged the capital letter "G" and placed the brand's full name above it. The zipper was reduced and placed in the center.
Font and Color of the Emblem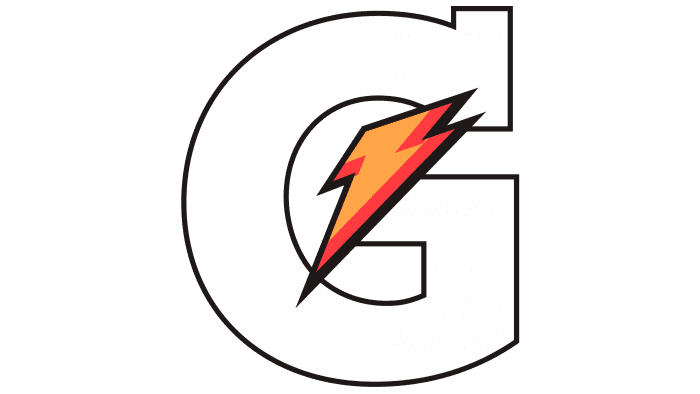 All versions have their serif fonts – there is not a single identical spelling. Therefore, logos differ in letter thickness, angle, color. Some of them have something in common with Rory Oblique.
The international version contains a classic set of colors: white for the outline, orange and black for the zipper, dark gray for the letter.
The palette of emblems of a special issue, developed in 2015 in North America, is very diverse. In addition to the traditional signature gamut, it contains yellow, an additional shade of orange and bright green tones.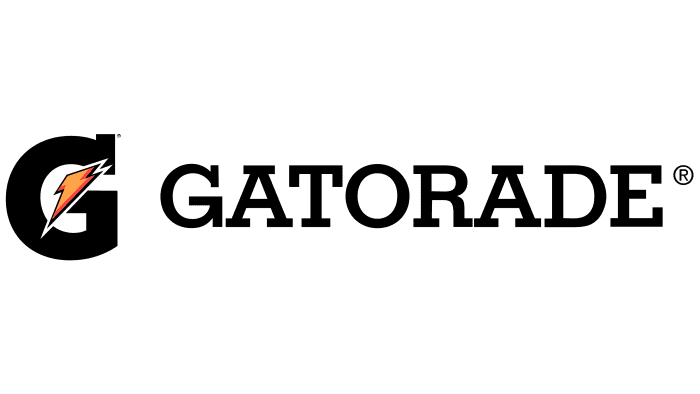 There are no identical fonts in this brand's logos: each period has its spelling of the word "Gatorade." The font has something in common with Rory Oblique. The latest version uses rounded serif letters developed by TBWA\Chiat\Day ad agency.
The corporate palette includes white for the background, black for the outline, yellow and orange for the lightning, dark gray for the letter, and company name. Early versions also featured blue for the edging and green for the lettering.