Glo Gang Logo PNG
The Glo Gang logo is a way to showcase its brightness and uniqueness. The main emblem features a sun holding a cup to its mouth. It appears in striking contrast. On the one hand, the orange color symbolizes cheerfulness and optimism. On the other hand, the character frowns discontentedly and wears white gloves, revealing its primness.
| | |
| --- | --- |
| Founded: | 2014 |
| Founder: | Chief Keef |
| Headquarters: | Chicago, Illinois Los Angeles, California, U.S. |
Glo Gang is a trademark owned by American rapper Keith Farrelle Cozart, better known by the stage name Chief Keef. Initially, it was only a record label (with sub-labels Rocket Power Gang and DigiGlo). Still, as the brand gained popularity, it began to be used for selling clothing, footwear, headwear, and accessories.
Meaning and History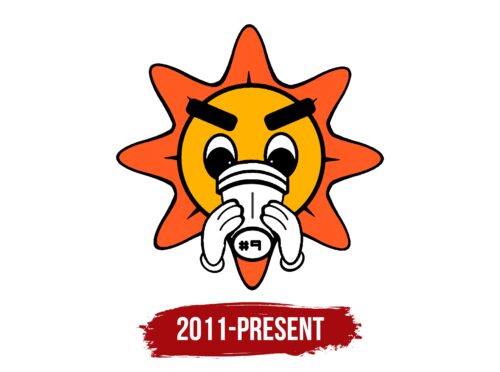 The term "Glo Gang" stands for "Glory Gang" and originates from the rap label Glory Boyz Entertainment, which was created in 2011 under the terms of a contract signed between Chief Keef and Interscope. GBE never became a full-fledged recording studio and was closed in 2014. In its place, the new label Glo Gang appeared. It can be said that the Chicago rappers simply shortened the name of Glory Boyz Entertainment, leaving only the first three letters. The word "Gang" was added due to its fashionable sound.
While Chief Keef personally created the logo for GBE, the emblem for his new flagship brand was developed by another person – Casimir Spaulding. He is a popular visual artist whose drawings adorn rap album covers and hangs in the homes of hip-hop celebrities. He is responsible for most of Glo Gang's illustrations and serves as the label's creative director. His inspirations include his own childhood psychological traumas, Marvel comics, anime, and Japanese pop art. The artist's main creative principle is the expression of joy through visual art.
What is Glo Gang?

Glo Gang is a record label created in early January 2014 based on Glory Boyz Entertainment (GBE). Its current members are rappers and hip-hop artists Chief Keef, DooWop, ManeMane4CGG, Jusglo, Terintino, Lil Flash, Ballout, and Tadoe. By the way, Chief Keef introduced GBE in 2011 and decided to change its name to Glo Gang at the end of 2013, stating that it was a new rap camp. The trademark is also used to sell clothing, accessories, and other merchandise.
Casimir Spaulding created almost all graphic symbols for Glo Gang, including the famous sun. It is an anthropomorphic character: it has a face and even hands. The central part of the image is a yellow circle with a dark outline. Against its background are two eyes composed of black and white ovals. Right above them are large eyebrows in the form of slanted rectangles. The mouth is not visible because it is covered by a glass that the sun is holding in its hands. Moreover, both palms are wearing white gloves, like Mickey Mouse. Instead of rays, the artist depicted a wide orange halo of a wavy shape outlined along the edge with a thin black stripe.
The cult sun of Glo Gang is made up of simple geometric shapes such as ovals, circles, and quadrilaterals. But it looks bright and unusual because its creator Casimir Spaulding was inspired by favorite comics, Japanese animation, and other things from the world of entertainment. The sun symbolizes a rebellious spirit, a creative approach, and the absence of any limitations.
Font and Colors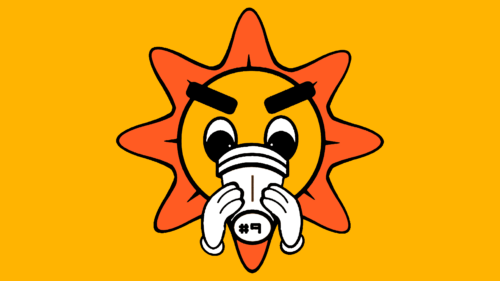 In its identity system, Glo Gang uses a custom-designed font. The logo colors also attract attention: the designer combined warm shades of yellow and orange and added just a little black and white. As Casimir himself admitted, he tries to avoid gloomy colors because his whole life is pain. And with the help of bright colors, the artist wants to make people happy.
Glo Gang color codes
Selective Yellow

Hex color:
#ffb401
RGB:
255 180 1
CMYK:
0 29 100 0
Pantone:
PMS 7549 C
Neon Orange

Hex color:
#ff5b22
RGB:
255 91 34
CMYK:
0 64 87 0
Pantone:
PMS 1655 C
Black

Hex color:
#000000
RGB:
0 0 0
CMYK:
0 0 0 100
Pantone:
PMS Process Black C