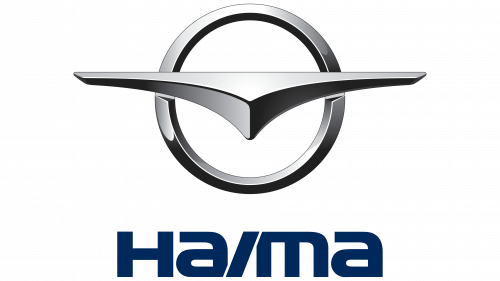 Haima Logo PNG
The Haima logo is a compelling geometric abstraction, featuring a ring overlaid with an indented triangle resembling a stylized bird. The design resembles a three-dimensional emblem of the car and is made in white and gray tones with a silver gradient. The brand's name is written in blue, sans-serif letters that are uniformly sized but set in varying cases. Notably, the "i" leans to the right, partially covering the adjacent "m."
Visual elements, the indented triangle—or the stylized bird—serve multiple purposes. Birds generally symbolize freedom, aspiration, and vision. Any automaker would want to associate these attributes with their vehicles:
The freedom to explore.
The aspiration to innovate.
The vision is to bring cutting-edge technology to consumers.
This emblematic feature captures the brand's core ethos in a visual form that speaks louder than words.
The encompassing ring holds its symbolism. Circles are globally understood to represent unity, wholeness, and infinity. This suggests that the brand is committed to delivering a comprehensive, unified experience through its products. The seamless shape of the circle signifies that the firm doesn't have a beginning or an end in its quest for quality and customer satisfaction.
Even the color choices are far from arbitrary. Silver often symbolizes sleekness and modernity, which aligns with the brand's high-tech focus in the automotive sector. Blue, seen in the text, traditionally stands for depth, wisdom, and stability. This provides an underpinning of trust and reliability that balances the exhilarating freedom suggested by the stylized bird.
Then there's the unique typography: The blue letters are intriguingly arranged, with the leaning "i" creating a dynamic interaction with the "m." This little detail adds a layer of sophistication, implying that Haima doesn't overlook the finer elements.
Every element in this logo—from the stylized bird to the encompassing ring to the color choices and even the typography—works harmoniously to communicate the brand's core values and aspirations. This complex visual narrative paints a picture of a forward-looking and grounded brand, balancing the thrill of innovation with the stability of trusted engineering.
| | |
| --- | --- |
| Founded: | January 1992 |
| Founder: | Hainan Automobile Group and Hainan provincial government |
| Headquarters: | Haikou, Hainan, China |
| Website: | en.haima.com |
Established in 1992 through a collaboration between the Hainan government and Japanese automaker Mazda, Haima initially produced Chinese-market versions of Mazda's popular 323 and Mazda6 models. The company underwent a significant transformation in 2006 when China's First Automobile Works (FAW) bought a stake, tilting the balance of ownership toward a more domestic orientation. Nonetheless, Haima retained its alliance with Mazda, modifying various Mazda cars such as the Mazda2, Mazda3, and CX-7 for the Chinese market.
The 2010s marked an era of diversification for Haima as it began rolling out its original models, including the Haima 7 SUV and various electric vehicles. By 2020, FAW had consolidated its influence over Haima by increasing its stake to 75%, intending to weave the company more tightly into its broader business structure.
Today, Haima functions predominantly as an FAW subsidiary, focusing on manufacturing passenger cars. Despite this, the brand hasn't entirely severed its relationship with Mazda, continuing to collaborate on select vehicle projects. With production facilities spanning the provinces of Hainan, Inner Mongolia, and Jilin and a workforce of roughly 9,000, Haima stands as an essential player in China's automotive landscape.
Meaning and History