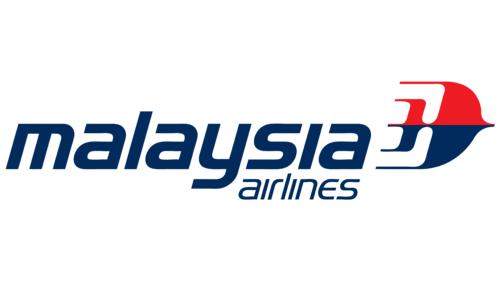 Malaysia Airlines Logo PNG
The Malaysia Airlines logo is strong and memorable. It consists of a two-tiered text block where the main company name, "malaysia," is in thick italics in lower case, and "airlines" is written below in lower case in the right-hand corner in the slimmer font. The text is dark blue, symbolizing stability, reliability, and professionalism.
To the right of the text is a symbol of a kite, horizontally turned and flying forward. The kite is an Eastern sign associated with many values, such as wisdom, courage, luck, spirituality, and happiness. The red and blue color of the kite means dynamism and strength, and the national culture of Malaysia.
The brand symbol – a kite – not only gives the airline its unique symbolism and sets it apart from other airlines but also conveys the national character of the company and its commitment to the country's cultural traditions.
Malaysia Airlines' brand values and strengths include a high level of passenger service, a commitment to flight safety and crew competence, an extensive worldwide route network, and a diverse range of service classes. The brand identity is modern and beautiful, with quality and reliability.
Malaysia Airlines: Brand overview
| | |
| --- | --- |
| Founded: | 1 May 1947 |
| Founder: | Khazanah Nasional Berhad |
| Headquarters: | Kuala Lumpur International Airport, Sepang, Malaysia |
| Website: | malaysiaairlines.com |
Malaysia Airlines, Malaysia's national airline, was officially established in 1972, with its main offices in the country's capital, Kuala Lumpur. This major aviation company offers services to over 60 locations worldwide, including various domestic and international destinations within Asia, Australia, Europe, and the Middle East.
The principal operations center for Malaysia Airlines is the Kuala Lumpur International Airport. However, it also utilizes the airports in Kota Kinabalu and Kuching as additional operational hubs, thus ensuring broad coverage of local and global routes.
In terms of the airline's fleet, it proudly operates approximately 100 aircraft, primarily from industry-leading manufacturers Airbus and Boeing. The fleet predominantly consists of A330s, A350s, and B737s models, providing comfort and reliability for its passengers.
Ownership of Malaysia Airlines lies with Khazanah Nasional, a holding company owned by the Malaysian government—the government's ownership shifts from the airline's previous status as a state-owned entity.
Malaysia Airlines is a part of the Oneworld airline alliance, which includes esteemed international partners like Qatar Airways, Cathay Pacific, and British Airways. This membership helps ensure comprehensive global coverage and facilitates smooth travel for passengers worldwide.
Despite being a leading player in the aviation industry, Malaysia Airlines faced significant financial challenges during the past decade, spurred on by escalating competition and the unfortunate occurrence of two major aviation disasters in 2014. These setbacks necessitated a period of significant restructuring.
To stabilize its operations and improve its financial health, the airline downscaled its global network and workforce, shifting its focus towards enhancing regional connectivity. Despite these challenges, Malaysia Airlines remained resilient, transporting over 16 million passengers in 2021 and serving over 50 destinations.
Meaning and History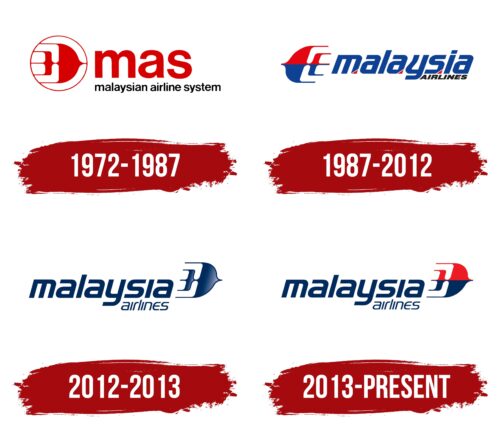 1972 – 1987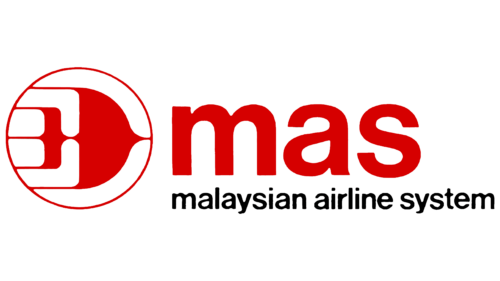 1987 – 2012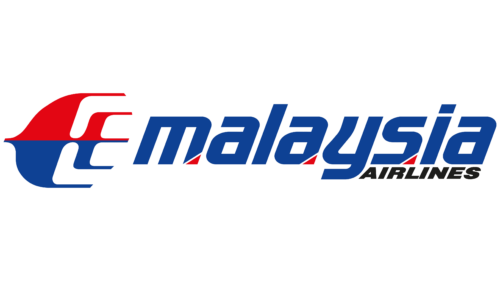 2012 – 2013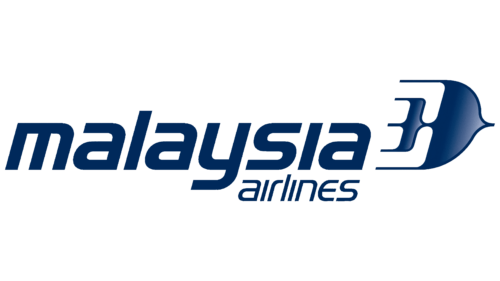 2013 – today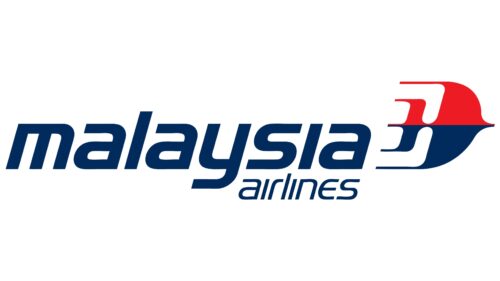 Malaysia Airlines color codes
Cool Black

Hex color:
#002b5c
RGB:
0 43 92
CMYK:
100 53 0 64
Pantone:
PMS 648 C
Pigment Red

Hex color:
#ed1c24
RGB:
237 28 36
CMYK:
0 88 85 7
Pantone:
PMS 485 C