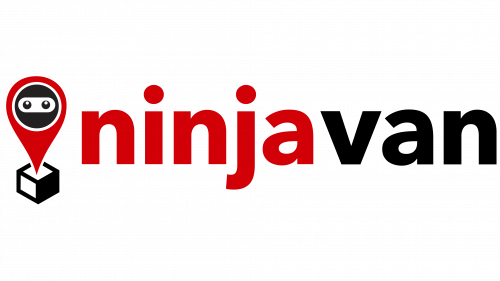 Ninja Van Logo PNG
Ninja Van logo showcases an imaginative take on the company's logistical focus, making it a standout piece of corporate branding. Originating from Singapore, the company successfully merges functionality and whimsy in its emblem.
The logo employs a classic pin icon, typically associated with mapping or location, but adds a playful twist. This pin is redesigned to resemble a ninja face, complete with a stylized eye mask. The eye mask is rectangular with rounded edges, which sit over a black circle encased in a white ring. This black and white circle acts as the ninja's head, providing a visual balance to the pin's red teardrop shape.
The choice of red in the design captures attention and emanates a sense of urgency and excitement. In various cultures, red is seen as a powerful and passionate color. Given that the organization specializes in logistics and timely deliveries, the color choice aptly conveys the message of quick and efficient service.
The eye mask, a quintessential part of a ninja's attire, suggests speed, stealth, and efficiency. It's a symbolic nod to the company's operational ethos. Ninjas are known for accomplishing missions with a high level of skill and precision, qualities that Ninja Van aims to emulate in its services.
The company's name appears to the right of the icon, each word in its distinct color. This multi-colored approach adds a modern, energetic vibe to the overall design. The text in bold lowercase sans serif letters further modernizes the logo and makes it more accessible. It's a calculated move that aligns with the brand's mission to be customer-friendly while maintaining high professional competence.
While the icon draws you in with imaginative playfulness, the textual elements keep you grounded with straightforward efficiency. This clever blend makes the emblem memorable and deeply reflective of the company's ethos. It succeeds in saying, without words, that this is a brand you can trust for timely and effective logistical solutions.
Ninja Van: Brand overview
| | |
| --- | --- |
| Founded: | 2014 |
| Founder: | Lai Chang Wen, Shaun Chong, Boxian Tan |
| Headquarters: | Singapore |
| Website: | ninjavan.co |
In 2014, a new player named Ninja Van emerged in the logistics scene, thanks to the collective vision of Lai Chang Wen, Shaun Chong, and Boxian Tan. Initially setting its base in Singapore, the firm aimed to revolutionize last-mile delivery solutions for the burgeoning e-commerce sector.
With its rapid growth trajectory in its homeland, Ninja Van successfully amassed funds surpassing $30 million within its first two years. This initial success paved the way for its footsteps beyond Singapore. By 2016, the brand's footprint had spread across various Southeast Asian countries: Malaysia, Indonesia, Philippines, Thailand, and Vietnam.
A distinct aspect of Ninja Van's operations was its heavy reliance on tech-driven processes. The company tapped into the power of data analytics and digital solutions for optimizing delivery routes, real-time package tracking, and keeping customers in the loop with timely updates. By the close of 2018, it wasn't just another logistics provider; Ninja Van had positioned itself as a frontrunner in Southeast Asia's last-mile delivery segment, as evidenced by their whopping $85 million Series C fundraising.
As the next couple of years rolled on, the company's momentum didn't wane. Expanding their reach further, they began operations in Myanmar in 2019 and raised even more capital in subsequent funding rounds. With a robust network of over 30 sorting facilities and corporate hubs dispersed across seven Southeast Asian nations, Ninja Van efficiently processes more than 2 million packages every day, supported by a workforce exceeding 10,000.
In the backdrop of Southeast Asia's flourishing e-commerce sector, Ninja Van stays committed to its core vision—leveraging technology to streamline and enhance the last-mile delivery experience.
Meaning and History