Pininfarina is an Italian bodybuilding and luxury car décor company. It appeared in 1930 under the name Carrozzeria Pinin Farina, which is received in honor of its founder – Battista Pinin Farina. Part of the Mahindra Group, covering a wide range of automotive and industrial design services.
Meaning and History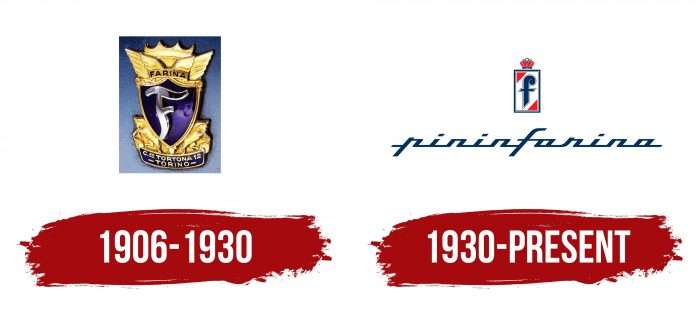 The company logo consists of a name that arose from the merger of the nickname and surname of the owner: Pinin + Farina. It has a rich heritage and an incredibly elegant look. It consists of two parts: graphic and verbal signs.
1906 – 1930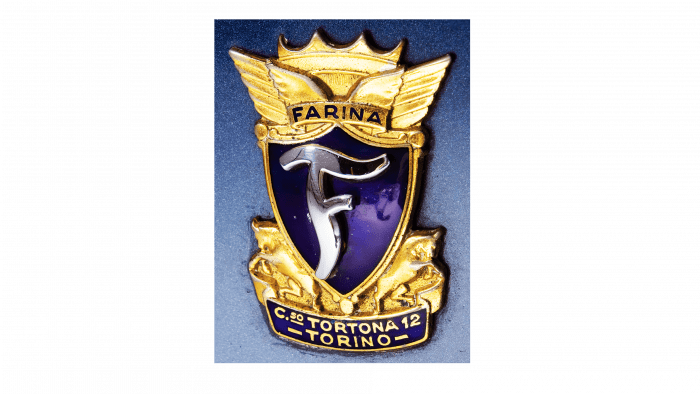 The original version of the logo emphasized the elegance of the cars produced under the Pininfarina brand. Its visual lightness, luxury, and dynamism convey this well. They are reflected in details – in the wings located on both sides, a regal crown, a coquettishly curved letter.
The base of the emblem is a blue shield with a gold edge. Two mountain goats are depicted on the right and left below – as a symbol of overcoming any obstacles because these animals easily rush along high-mountainous rocks. At the top is the attribute of monarchical power, bordered by two pairs of wings. There is also a text part: a capital "F" in an extravagant spelling and the word "FARINA" on a horizontal plate.
1930 – today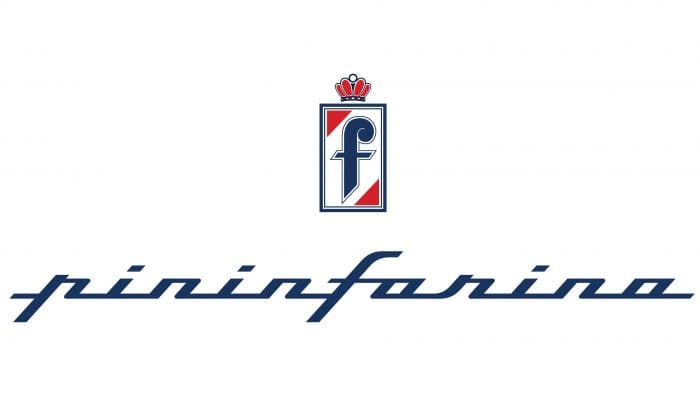 A graphic element occupies the key place with a central "f." The letter is in a double-edged oblong rectangle. Adjacent to two miniature red triangles placed in the upper left and lower right parts for visual balance. In the middle, there is a white diagonal background.
Above the vertical rectangle is a small monarchical crown – a symbol of its elitism and belonging to the premium level. This is a testament to the impeccable quality of service. The crown features a large pearl, which further adds an aura of luxury and rich heritage to the logo.
The main detail is the lowercase "f." With a double stroke and a large curl at the top, the letter is large, turned to the right. The leg is cut at right angles and pointed. The same technique is used on the crossbar.
Font and Color of the Emblem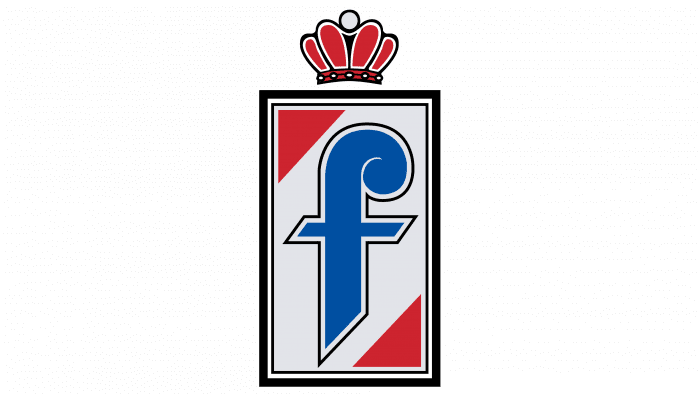 The text has a perfect balance of geometric rigor and creativity. The word is written in italic lowercase letters, in a square font with straight lines and smoothed corners. It looks futuristic, balancing on the verge of simplicity and high sophistication. Ideal for classic transport brand logos.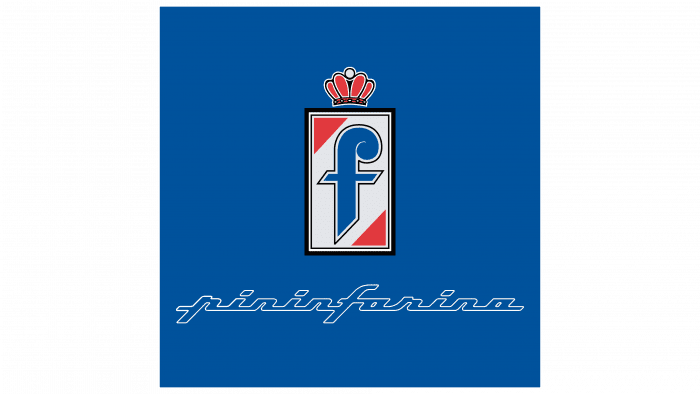 The color palette of the emblem is a combination of dark blue, red, and white. They do not have any shades or gradients, which speaks of the company's seriousness, reflecting a responsible approach to design. It also showcases her impeccable sense of style and beauty.