SRT Logo PNG
Cars released by Street & Racing Technology are recognizable by their distinctive emblem. The SRT logo signifies that the vehicle boasts a stylish design, excellent handling, and reliable transmission—highly valued by car enthusiasts. This symbol embodies speed and high performance.
| | |
| --- | --- |
| Founded: | 1989 – 2014 |
| Founder: | Chrysler |
| Headquarters: | Detroit, United States |
The story of SRT began in 1989 in Detroit. Team Viper was formed with the mission to create the supercar Dodge Viper. It comprised dozens of engineers, mechanics, and designers selected by Roy Sjoberg from the Chrysler workforce. They successfully developed a powerful car that received public acclaim. Later, the group decided to collaborate with Team Prowler. This alliance became known as Specialty Vehicle Engineering and was renamed Performance Vehicle Operations in 2002. The brand adopted its current name, Street & Racing Technology, two years later. Focused on tuning/manufacturing potent vehicles from various brands, primarily Jeep, Dodge, and Chrysler, SRT was an independent division from 2012 to 2014. It then became part of Dodge and continues to exist as a trademark.
Meaning and History

The SRT badge is found on cars manufactured or tuned by Street & Racing Technology. It usually appears as a stylish three-letter inscription in a flattened font. Different variations of the emblem exist: sometimes, the numbers "4," "6," "8," or "10" follow the acronym, representing the engine's cylinder count for that specific model.
Even though SRT's origins date back to 1989, its iconic logo started being used much later. Until the mid-1990s, the brand was known as Team Viper, later renamed Specialty Vehicle Engineering, and a few years later, Performance Vehicle Operations. In the 2000s, the concept car Dodge Ram SRT-10 was introduced, and around the same time, the SRT logo emerged. This symbol was so frequently featured on cars that the development team itself decided to take on the name Street & Racing Technology, aka SRT.
What is SRT?

SRT stands for "Street & Racing Technology." It's a car brand distinguished by enhanced aerodynamics, power, handling, braking, and a stylish design. The first among these was the Dodge Viper. New models like the Ram 1500 TRX, Jeep Wrangler 392, and Chrysler 300 SRT have followed since.
1989 – 2014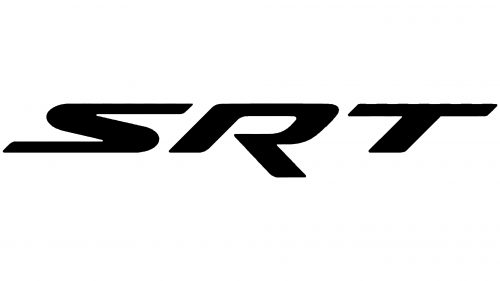 The logo, with its simple black inscription, emphasizes the key aspects of the SRT brand. The use of bold italics with rounded edges creates a sense of motion. It's associated with high speed, aligning with the brand's focus on powerful cars. The straightforward letters showcase the professional nature of SRT. There are no extra frills – just a short and clear abbreviation that signifies a drive for excellence. The minimalist design aligns with modern trends, making it synonymous with cutting-edge solutions. And because the emblem is so straightforward, it's easily identifiable on cars, clothing, and accessories.
Font and Colors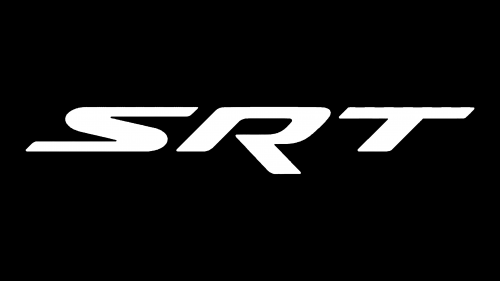 The SRT logo designers employed a unique set of glyphs. There are only approximately similar fonts, like Sofachrome by Typodermic Fonts. The brand is recognizable by bold, italicized, and flattened letters without serifs. The color black conveys reliability, strength, and durability.