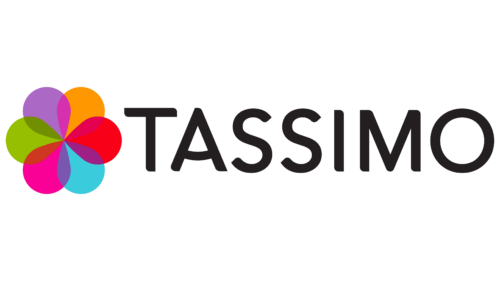 Tassimo Logo PNG
In 2004, Kraft Foods introduced Tassimo to the French market as a revolutionary system for making single servings of various hot beverages, including coffee, espresso, and tea, using specialized "T-discs." The coffee machines were originally manufactured by Saeco and distributed by Braun.
The brand quickly spread to other parts of Europe, and by 2008, through a collaboration between Kraft and Bosch, debuted in North America. In the late 2000s, Tassimo gained significant popularity due to its ease of use and variety of brewing options, cementing its place as one of the best-selling single-serve coffee makers.
In 2012, a significant shift occurred as Kraft restructured its business, separating its snacks and beverage segments and creating Mondelez International. This new company gained control of the Tassimo brand. Two years later, in 2014, Jacobs Douwe Egberts acquired the brand for most global markets, leaving North American operations under the Kraft Heinz umbrella.
Today, Tassimo continues to offer a wide range of hot beverages through its single-serve machines and unique T-discs. Since its introduction in the early 2000s, Tassimo has established its reputation as an innovator in single-serve brewing systems. Even as the company has changed hands between large conglomerates, it continues to focus on providing consumers around the world with convenient and versatile brewing systems.
Meaning and History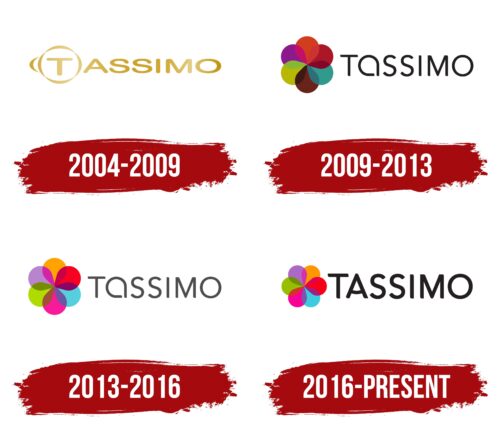 2004 – 2009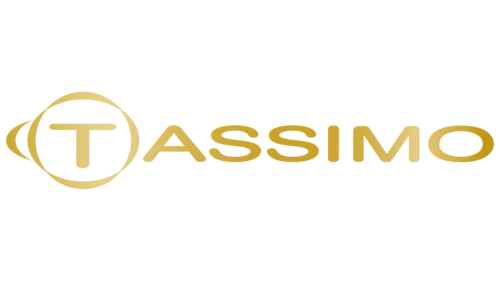 2009 – 2013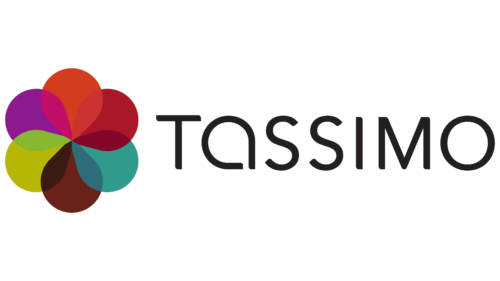 2013 – 2016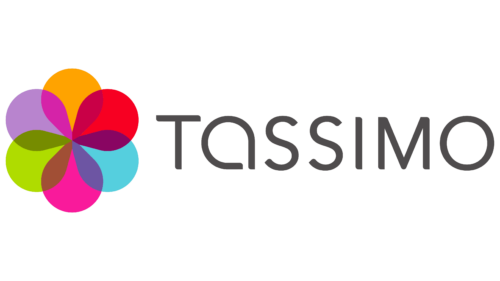 2016 – today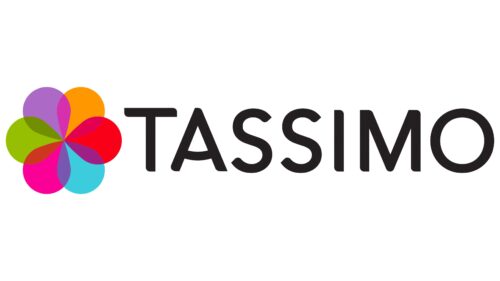 The Tassimo logo radiates incredibly positive energy because it is bright, colorful, and inspiring. The rainbow colors are reflected in the unique flower-shaped icon. This structure includes six identical circles with a solid fill. Each circle has a different color palette: green, magenta, orange, red, blue, and pink. The circles overlap, creating the effect of flower petals. The splash of colors is balanced by the black lettering on the right. The brand name is in capital letters with rounded corners.
The colors in the logo look like a party. Each circle is like a friend who joins in the fun and makes you want to smile. The black text on the side is reminiscent of a cool DJ, making sure the colorful party doesn't get too raucous. The rounded letters in the text are reminiscent of a friendly greeting. They are neither abrupt nor harsh but simply calm and friendly.
Tassimo color codes
Apple Green

Hex color:
#96bf01
RGB:
150 191 1
CMYK:
21 0 99 25
Pantone:
PMS 376 C
Rich Lilac

Hex color:
#ac68c5
RGB:
172 104 197
CMYK:
13 47 0 23
Pantone:
PMS 252 C
Orange Peel

Hex color:
#ff9700
RGB:
255 151 0
CMYK:
0 41 100 0
Pantone:
PMS 151 C
Neon Red

Hex color:
#f80017
RGB:
248 0 23
CMYK:
0 100 91 3
Pantone:
PMS Bright Red C
Middle Blue

Hex color:
#3acbdd
RGB:
58 203 221
CMYK:
74 8 0 13
Pantone:
PMS 7466 C
Deep Pink

Hex color:
#f90096
RGB:
249 0 150
CMYK:
0 100 40 2
Pantone:
PMS 806 C
Raisin Black

Hex color:
#231f20
RGB:
35 31 32
CMYK:
0 11 9 86
Pantone:
PMS Neutral Black C