Toblerone is the name of a chocolate confection made by Kraft Foods Corporation. Its backstory began in 1868 when Jean Tobler started selling sweets. Seeing the increased demand for delicacies, the shop owner decided to launch his chocolate factory. He implemented this idea in 1899 with the founding of the Fabrique de Chocolat Berne Tobler & Cie in Bern. And ten years later, Toblerone appeared in the range. The original recipe was invented by the cousins ​​Theodor Tobler and Emil Baumann.
Meaning and History

What is Toblerone?

Toblerone is popular Swiss chocolate made up of interconnected pyramids. In addition to the classic options, there are coconut, almond, and honey bars, individually wrapped pieces, and flat chocolate bars.
The triangular chocolate bar's packaging features its logo: the snow-capped Matterhorn mountain peak and the red 'TOBLERONE' lettering. This name is derived from the surname Tobler and the Italian word "torrone," which means a delicacy made of roasted nuts, egg white, sugar, and honey. A similar almond nougat is found in Toblerone sweets. Mondelez International Inc reserves brand and visual identity rights.
Font and Color of the Emblem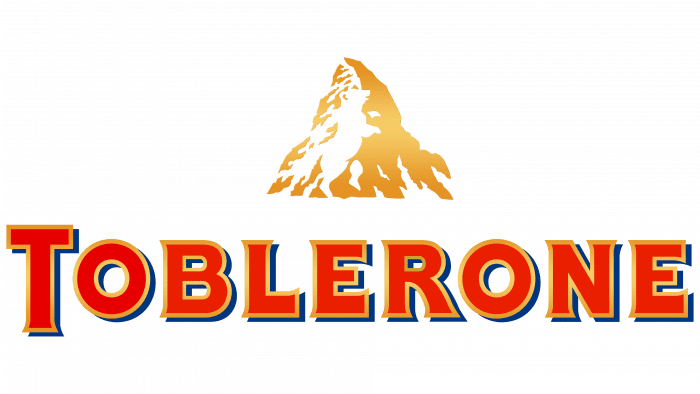 The confectionery trademark contains its name and graphic element: a white and yellow Alpi Pennine top. In most cases, the word is to the left of the image, but there is also a horizontal version, where the caption is reduced in size and located below the image. This variant is found on the sides of the packaging.
Everything in Toblerone has a hidden meaning – from the bar's appearance to the emblem and the symbols encoded in it. The most important thing in the brand's concept is a triangle because chocolate is not in vain, divided into slices of exactly this shape. As far as is known, the Matterhorn summit looks like a four-sided pyramid. It is depicted on the logo and takes up a lot of space on the packaging.
If you look closely, you can see the white silhouette of a bear among the snow. He stands on his hind legs, lifting his head as if trying to climb a mountain. This image did not come about by accident: the designers deliberately used it to emphasize Toblerone's connection with its native region.
The factory that pioneered the production of almond nougat chocolate bars is located in Bern. And the capital of Switzerland, in turn, is known as the city of bears. It happened historically – even its coat of arms looks like a heraldic shield with a bear.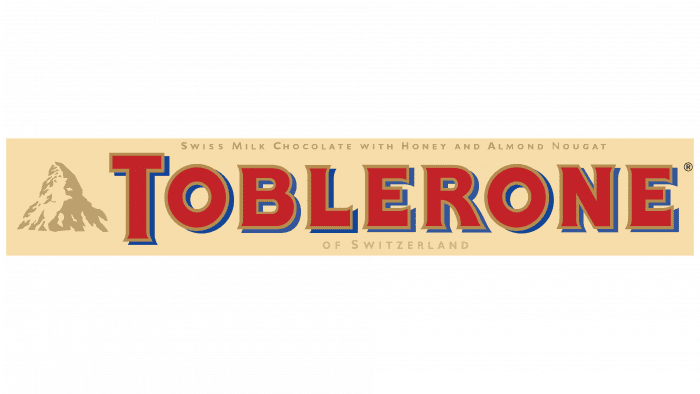 The font for the word "TOBLERONE" was specially designed for Jean Tobler. It vaguely resembles Memo Medium or Serif Gothic Black but is not identical to them. The emblem palette contains blue (# 001e62), red (# da291c), white, and gold (# 8c714c). The color scheme of the lettering is dominated by red with a small amount of blue and gold.