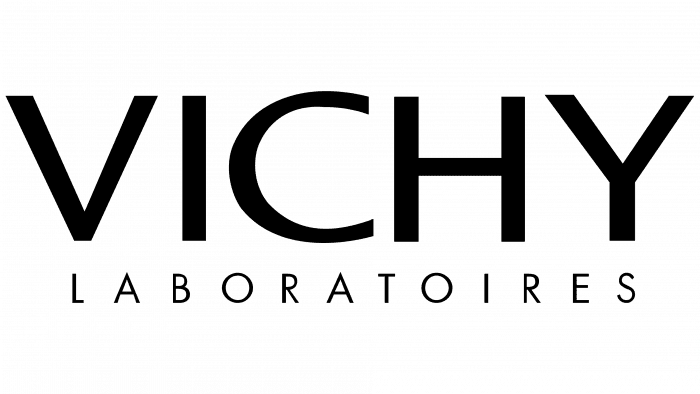 Vichy Logo PNG
The Vichy logo shows that the fame and popularity of the brand are associated with a fundamental approach to the manufacture of cosmetics. Each product is the result of careful laboratory research. The emblem guarantees an excellent and lasting result.
| | |
| --- | --- |
| Founded: | 1931 |
| Founder: | L'Oréal |
| Headquarters: | France |
| Website: | vichy.com |
Vichy is one of the L'Oréal brands. Its products belong to the active cosmetics segment and contain thermal water from the Lucas spring. The range includes premium products for rejuvenation, sun protection, skin, and hair care.
Meaning and History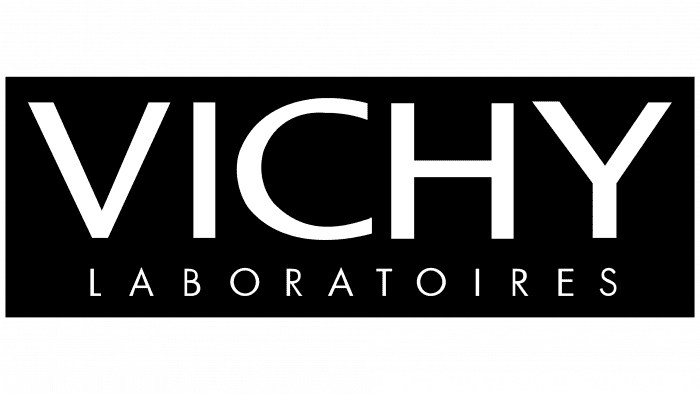 There is nothing superfluous on the trademark logo. The minimalistic black lettering on a white background fits in with Vichy's purity concept. For the same purpose, the designers chose a strict sans-serif font. Despite its simplicity, it looks quite stylish: long, straight lines with cut edges emphasize the harmony of shapes. The developers deliberately abandoned bright and non-standard elements to associate the brand name with natural beauty.
The top line contains the word "Vichy." It is depicted in large printed characters. Below is the inscription "Laboratories," which is made in small capital letters. But even such a clear contrast does not interfere with the visual perception of the emblem.
What is Vichy?

Vichy is a French cosmetic brand best known for its anti-aging, moisturizing, and sun protection product lines based on thermal water. It also has products for problem skin and hair. It belongs to L'Oréal and is part of the Active Cosmetics group. It first appeared in 1931.
In addition to the wordmark with the words "Vichy Laboratories," this brand has an emblem in the letter "V." It looks like a splash of water, from which drops and splashes scatter in all directions. The fact is that the company produces dermatological cosmetics based on liquid from thermal springs. Hence, such a graphic image appeared. By the way, the word "Vichy" on the logo designates the trademark and the name of the commune where the Lucas geothermal spring, unique in its properties, is located. Its mineral water is the main "secret" ingredient of the manufacturer.
Font and Colors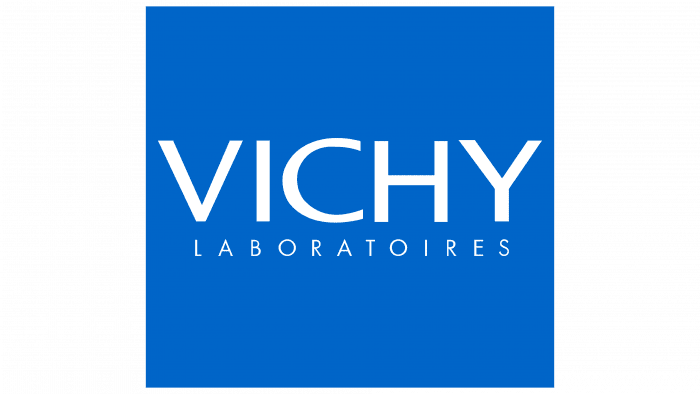 The brand name is executed in sans serif, a minimalistic sans serif typeface. The letters are thin and uppercase. At the ends of the "C," there are straight vertical cuts, and the "V" is similar to the Roman numeral five.
In the classic version, the text is black, and the background is light. But there are other versions: for example, white lettering on a black or blue background. Also, Vichy Laboratories may be gray. The watermark is usually gray or blue.
Vichy color codes
Black

Hex color:
#000000
RGB:
0 0 0
CMYK:
0 0 0 100
Pantone:
PMS Process Black C