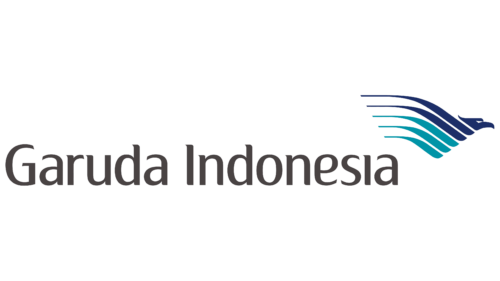 Garuda Indonesia Logo PNG
The Garuda Indonesia logo is a symbol of high aviation culture and the epitome of Indonesian history and culture. The emblem consists of two parts: the inscription "Garuda Indonesia" in a serious, upright script written in dark gray and the symbol of the Garuda bird.
Garuda is a mythological bird, which in Hindu mythology is a symbol of strength, wisdom, and fidelity. The Garuda bird is the national symbol of Indonesia and the symbol of Garuda Indonesia. In the logo, she is depicted in deep blue and turquoise colors, which symbolize the azure waters of Indonesia and coastal life, which are so loved and appreciated in the country.
The inscription "Garuda Indonesia" on the logo is written in capital letters, indicating the brand's professional approach to its work. The dark gray color symbolizes stability, reliability, and trust, which are important values for him.
The Garuda Indonesia emblem embodies the high standards of the aviation industry and reflects pride in Indonesian history and culture. The turquoise blue colors and the Garuda bird's image remind passengers of Indonesia's beauties and call for an adventure that only this company can provide.
Garuda Indonesia: Brand overview
| | |
| --- | --- |
| Founded: | August 1, 1947 |
| Founder: | Government of Indonesia |
| Headquarters: | Soekarno–Hatta International Airport, Tangerang, Banten, Indonesia |
| Website: | garuda-indonesia.com |
Garuda Indonesia, Indonesia's national airline, has its corporate headquarters in Jakarta, and its main operations are anchored at the Soekarno–Hatta International Airport. Founded in 1949, Garuda is one of Asia's most ancient airlines. Its name draws inspiration from the mythical Garuda bird, a significant national symbol of Indonesia.
As we enter 2023, Garuda continues its journey across the skies, serving over 50 destinations that span the domestic circuit and international locations in Southeast Asia, East Asia, Australia, the Middle East, and Europe. Its varied fleet comprises a mix of Airbus A330s, Boeing 777s, and 737s, along with smaller turboprop aircraft primarily used for short-haul routes.
Garuda offers a range of service classes to suit different passenger needs, including First Class, Business Class, Premium Economy, and Economy. The airline is celebrated for its exceptional cabin service, deeply rooted in Indonesian hospitality, which has garnered several accolades over the years. In 2014, Garuda secured its place in the prestigious SkyTeam airline alliance, sharing the platform with other significant players such as KLM, Delta, and Aeromexico.
While the Indonesian government partly owns Garuda, the lion's share rests with private investors. Recently, the airline has undergone a series of restructuring and expansion initiatives. Its primary hubs extend beyond Jakarta, reaching out to other important Indonesian cities like Denpasar Bali, Makassar, Surabaya, and Medan. As a symbol of national pride, Garuda Indonesia is crucial in promoting Indonesian culture globally.
Meaning and History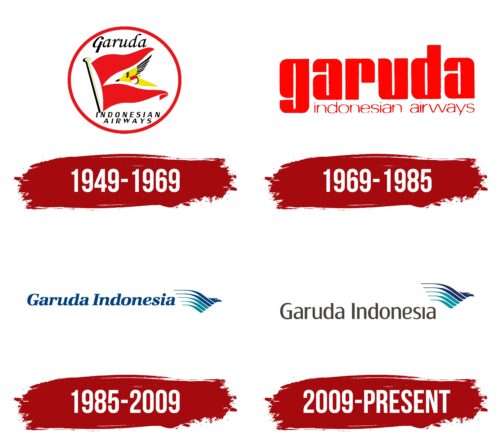 1949 – 1969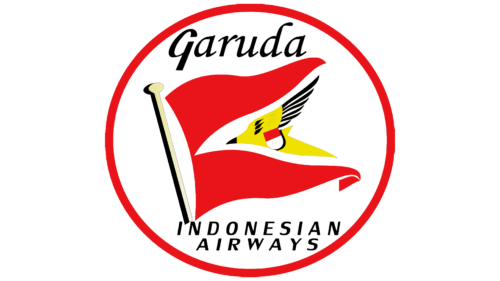 1969 – 1985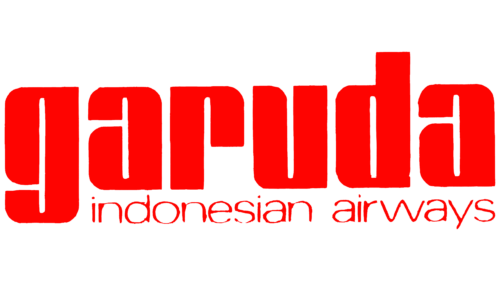 1985 – 2009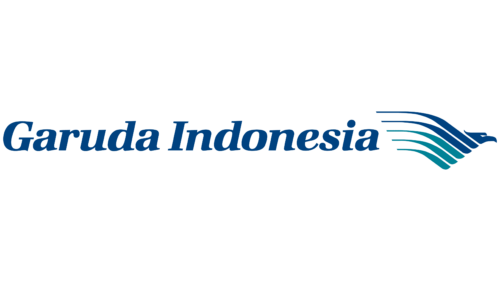 2009 – today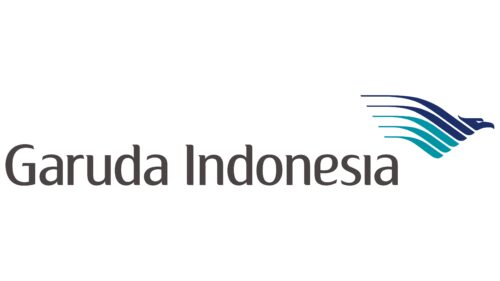 Garuda Indonesia color codes
Shadow Gray

Hex color:
#494343
RGB:
73 67 67
CMYK:
0 8 8 71
Pantone:
PMS Black 7 C
Delft Blue

Hex color:
#1c2e68
RGB:
28 46 104
CMYK:
73 56 0 59
Pantone:
PMS 281 C
Blue

Hex color:
#0094a7
RGB:
0 148 167
CMYK:
100 11 0 35
Pantone:
PMS 7710 C