Kanye West presidential campaign 2024 Logo PNG
The logo of Kanye West's 2024 presidential campaign is very provocative, just like the candidate himself, who often becomes a source of conflict and controversy. The emblem of the scandalous rapper causes a lot of controversy and fully reflects his fascist views and Holocaust denial. In confirmation of this, he confessed his love for Adolf Hitler and posted an image of a swastika on his Twitter page, which led to a block.
Kanye West presidential campaign 2024: Brand overview
Kanye West's 2024 presidential campaign is a race for the highest political office in the United States, announced by the American songwriter, rapper, fashion designer, and producer at the end of 2022. On November 20, he confirmed his intention in an interview with reporters. However, as of October 2023, he had no proper paperwork, no coherent platform, no formal application to the Federal Election Commission, no full-fledged team, no campaign headquarters, and not even a clear political affiliation, although he registered as a Republican last time (in 2020). The self-nominated candidate is supported by far-right figures such as Milo Yiannopoulos, Ali Alexander, and Nick Fuentes.
Meaning and History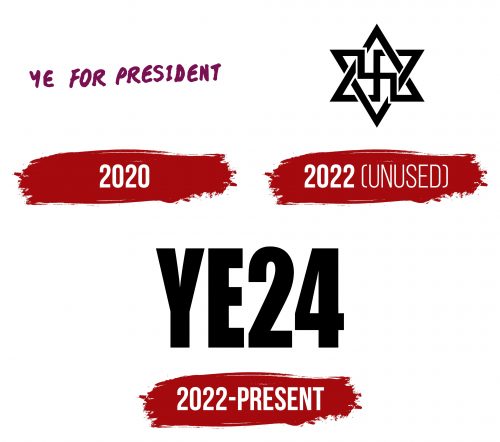 The self-nominee for president is known as a rapper, songwriter, and producer, as well as Kim Kardashian's ex-husband. Kanye Omari West is characterized by a provocative personality and extremist views, which is reflected in the logo of his 2024 primaries. In particular, the musician has repeatedly expressed support for Adolf Hitler, Vladimir Putin, and Donald Trump, with whom, incidentally, he had a spat after the proposal to become deputy prime minister in his political team. Kanye West also caused an uproar at Paris Fashion Week by wearing a T-shirt with the phrase "White Lives Matter" on it, expressing his love for Hitler, accusing Jews of secret conspiracies, and making anti-Semitic statements.
As a result, having been turned down by prominent fashion brands for further collaborations and being fired from his own talent agency, he lost billions of dollars. To regain his lost popularity and make headlines again, the musician, who officially changed his name to Ye, announced his participation in the 2020 and 2024 presidential elections. The emblem he chose was as provocative as himself, although it seemed simple and tolerant at first. Most likely, this was due to haste: the emblem was created hastily, as Kanye did not assume that he would take such a step – he even missed the registration deadline, so he did not get on the candidate lists in all states.
What is Kanye West's 2024 presidential campaign?

Kanye West's 2024 presidential campaign is a campaign effort announced by the famous rapper, performer, fashion designer, producer, and songwriter under the pseudonym Ye. He plans to run for the US presidency for the second time; the first time, he entered the race for the highest office in the country in 2020 (with a late entry), gaining 70,000 votes. The scandalous candidate confirmed his decision on November 20, 2022, in an interview with a member of the media, although he had expressed doubts about it on Twitter earlier in the month. He decided to make an offer for the role of vice president to Donald Trump, meeting with him on November 24 with this proposal. However, Trump declined and created a scandal. After that, the rapper posted a video of their meeting online.
2020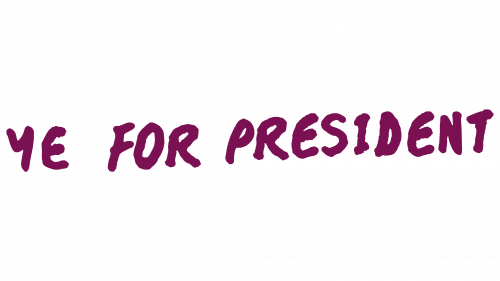 The logo is text-based and contains just one phrase: "Ye For President." It takes up one line and is slanted right side up. The letters are uppercase and uneven as if applied with a brush dipped in brown paint. The serifs are present only in the letter "I"; all other glyphs are sans serifs. Despite its casual nature, the emblem represents the presidential platform of a U.S. presidential candidate.
2022 (Unused)

The emblem combines two symbols: the Nazi swastika and the Jewish Star of David. With this emblem, Kanye West belittles the Jews, showing his political views – he is an ardent anti-Semite and supporter of Nazism. The designers placed a cross with bent ends in the center of two triangles, one of which is inverted.
2022 – today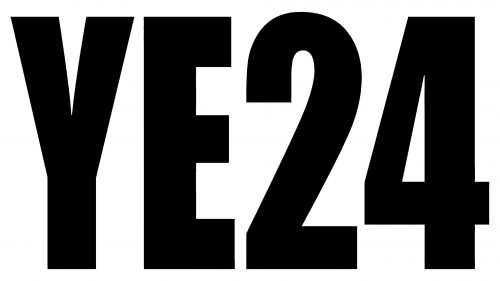 Although Kanye West's 2024 presidential campaign emblem is textual, it still functions as a graphic symbol. It consists of two elements: the candidate's new name and the year of the presidential election. The word "YE" is located at the top and is typed in capital letters. This is not an abbreviation but an official pseudonym adopted by the self-nominee. This is followed by the number "24" in the same style as the letters. All the glyphs are bold, embossed, blocky, and massive to give voters the impression of reliability and confidence in who he represents.
Font and Colors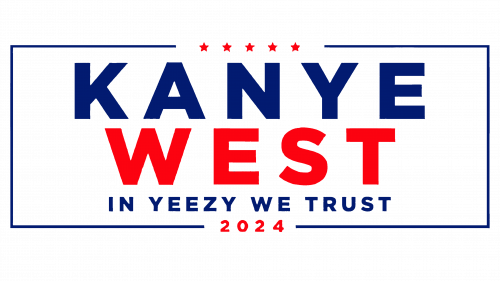 The text of Kanye West's 2024 presidential campaign logo for Kanye West uses Shelflife font. The glyphs are smooth, sans serifs, arranged strictly vertically. They have a high boldness. The color palette is monochromatic; in early and later versions, a combination of two colors is used; in particular, black dominates on a white background.