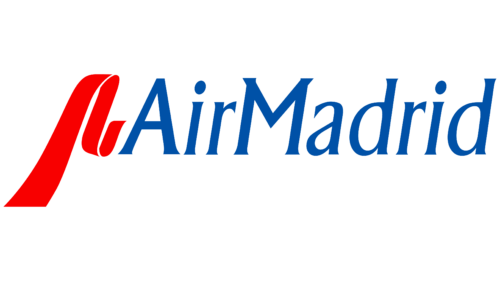 Air Madrid Logo PNG
Air Madrid logo, during its three-year existence under the ownership of Grupo Marsans, made its name the central component of the design. The inscription's style was retro-influenced, characterized by unique glyph shapes, refined strokes, and triangular serifs. The two words seemed to merge into one due to the extremely narrow space between them, allowing the designers to incorporate an additional element – a red ribbon on the left, formed by three uneven stripes, representing a stylized letter "A."
Retro Influence: The retro style of the inscription is a striking feature that gives the logo a timeless quality. This approach connects the airline with classic elegance, evoking feelings of nostalgia or a return to an era of glamorous travel.
Glyph Design: The specific forms of the glyphs, combined with the delicate strokes and triangular serifs, contribute to the overall aesthetic appeal. They play a key role in the logo's uniqueness, making it recognizable and distinctive.
Merging Words: Blending the two words in the logo creates a compact design that is both artistic and symbolic. The narrow space between the words represents unity or connection, reflecting the airline's aim to link destinations seamlessly.
Red Ribbon Element: The left-aligned red ribbon, composed of three uneven stripes, adds a dynamic visual touch. This element represents a stylized letter "A" and is seen as a symbol of excellence, passion, and innovation. The red color emphasizes energy and action, resonating with the airline's commitment to outstanding service.
Space Efficiency: The design uses space efficiently, incorporating multiple elements without cluttering the logo. This shows a well-thought-out design strategy that conveys the essential characteristics of the airline without unnecessary complexity.
Connection to Location: The name "Madrid" denotes the airline's origin and reflects a sense of pride in its cultural heritage. By incorporating a local identity into its branding, the airline connects with its home city and potential passengers from that region.
Corporate Alignment: Belonging to the Grupo Marsans consortium, the logo subtly aligns with the broader corporate identity. The stylized and sophisticated design could have been influenced by the consortium's overall branding strategy, creating a coherent image across different businesses.
Versatility and Application: Though filled with details, the logo maintains a level of simplicity that ensures its adaptability across various media. Whether printed on tickets, displayed on aircraft, or used in advertising, the logo retains its essence and continues to represent the brand effectively.
Short-lived Existence: The logo's existence for only three years adds historical interest. Its design symbolizes a particular period in the aviation industry, making it a subject of study and appreciation for design enthusiasts.
Air Madrid: Brand overview
| | |
| --- | --- |
| Founded: | 2003 – 16 December 2006 |
| Founder: | Grupo Marsans |
| Headquarters: | San Sebastián de los Reyes, Community of Madrid, Spain |
From 2003 to 2006, Spain was home to Air Madrid, an airline whose operations were centered at Adolfo Suárez Madrid–Barajas Airport. The brainchild of Spanish travel titan Grupo Marsans, the airline was headquartered in Madrid and aimed to make air travel more accessible through a business model emphasizing affordability.
With a fleet consisting of Airbus A320 and Boeing 737 jets, Air Madrid made significant strides connecting major cities in Spain, France, Germany, Italy, Switzerland, and other countries. Its efforts to offer competitively priced tickets were geared towards stimulating demand across its European network.
At its zenith, Air Madrid supported the livelihood of approximately 500 individuals. However, despite its initial promise, the airline had to terminate operations after just three years in December 2006, unable to turn a profit. High operating costs and intense competition were among the key challenges that pushed Air Madrid to its financial limits.
Following the airline's demise, creditors made over €100 million in claims. The fall of Air Madrid was also an early indication of impending financial problems for its parent company, Grupo Marsans.
Meaning and History