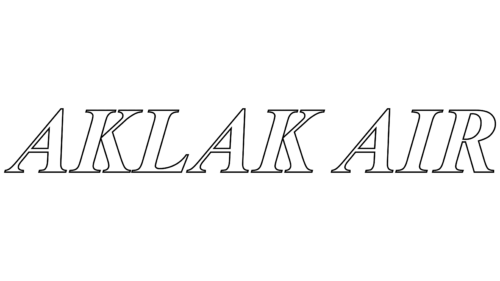 Aklak Air Logo PNG
Aklak Air logo seamlessly blends the simplistic with the intricate, presenting a design that carries both subtlety and flair.
Simplicity Meets Complexity: The design uniquely focuses solely on the airline's name, forgoing additional graphics or decorative elements. This decision embodies the brand's straightforward approach and dedication to its core identity.
Distinct Lettering: The choice of white for the letters, complemented by a black outline, allows the name to stand out, even when placed against a lighter background. Such an aspect ensures the brand remains distinguishable across various platforms or advertising materials.
Elaborate Typography: A noticeable feature of the logo is its intricate font choice. The italicized style, complete with pronounced serifs, introduces an element of sophistication. The uneven spacing between glyphs further adds a touch of dynamism, making the logo more engaging to the observer.
Illusionary Depth: The color palette gives an illusion that the letters are made merely of outlines, with a void inside. This design choice adds depth and dimension to the logo, making it pop and lending a modern, almost 3D effect.
Versatility in Application: The design ensures that the brand name remains legible and striking, whether displayed on an aircraft's body, ticket stubs, or digital platforms. The adaptability of the logo speaks to the brand's forward-thinking approach.
Aklak Air: Brand overview
| | |
| --- | --- |
| Founded: | 1977 |
| Founder: | Inuvialuit |
| Headquarters: | Inuvik, Northwest Territories |
| Website: | aklakair.ca |
Aklak Air, a regional airline founded in 1977, was primarily situated in Inuvik, a town in the Northwest Territories of Canada. The indigenous Inuvialuit people were the proud owners of the airline, which primarily catered to western Canadian Arctic regions by providing passenger and charter air services.
The main operations of Aklak Air were conducted from its central hub at Inuvik's Mike Zubko Airport. However, the airline also established bases in Yellowknife, Whitehorse, and other northern communities. Its fleet comprised various types of aircraft, such as the Cessna Caravan, Beechcraft King Air, and Twin Otter, all designed to withstand the harsh Arctic conditions.
The airline served several small towns and settlements scattered throughout the Northwest Territories and northern Yukon, functioning as a vital transportation lifeline in these remote areas. In 1994, Aklak Air joined hands with Kenn Borek Air to bolster its fleet and expand its charter capabilities.
Throughout its existence, Aklak Air consistently focused on supporting the northern indigenous communities and their activities, ensuring connectivity in the farthest corners of the country. However, in 2007, the airline stopped its regular scheduled flights and shifted its focus towards providing charter services before eventually ceasing all operations in 2016.
In its prime, Aklak Air boasted a fleet of 13 aircraft, providing service to around 30 different destinations across the northern expanse of Canada. Despite its eventual closure, the airline played a significant role in connecting remote northern regions and served its purpose admirably during its operational years.
Meaning and History