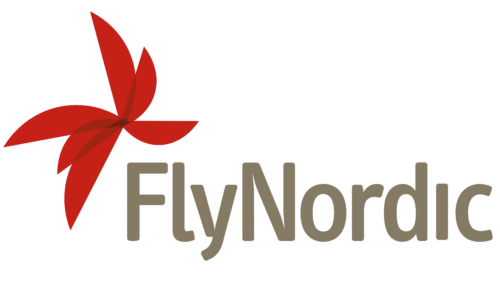 FlyNordic Logo PNG
FlyNordic logo, a unique emblem of the now-defunct Swedish airline, distinguished itself by adopting an unconventional graphic symbol: a red flower. The elongated petal-like semi-ovals symbolized lightness, airiness, and weightlessness, underscoring the brand's individuality. Next to this was the word "FlyNordic" without a dot over the lowercase "i," looking vivid despite its gray color due to a stylish font with rounded corners and tiny cutouts.
Red Flower Symbol:
Uniqueness: The company created a distinctive visual mark that set it apart from competitors by stepping away from conventional symbols like flying birds or airplanes.
Lightness and Airiness: The flower's extended semi-oval petals conveyed feelings of lightness, floating, and effortless grace. It represented the effortless and enjoyable experience of flying with the airline.
Warmth and Welcome: The choice of a flower as a symbol also added warmth and a welcoming touch, resonating with the hospitality passengers could expect onboard.
Gray "FlyNordic" Inscription:
Modern Typography: The font, characterized by rounded corners and tiny cutouts, imparted a modern and progressive feel.
Lack of Dot over "i": The omission of the dot over the "i" added a subtle element of intrigue and creativity, contributing to the overall uniqueness.
Harmony with the Symbol: Although gray, the text was designed to complement the red flower, ensuring the two elements harmonized harmoniously.
Color Scheme:
Red and Gray Contrast: Using red for the symbol and gray for the text created a balanced contrast, where the red draws attention, and the gray provides a calm backdrop.
Energy and Passion: The red color of the flower symbolizes energy, passion, and excitement, aligning with the dynamic nature of air travel.
Alignment with Brand Values:
Individuality: Using a non-traditional symbol and artistic typography underlined the brand's commitment to individuality and distinctiveness.
Commitment to Quality: The carefully crafted logo reflected a commitment to quality, both in design and service.
Market Positioning:
Appeal to a Broader Audience: By avoiding aviation-specific imagery, the logo may have appealed to a broader audience, including those who might not typically choose air travel.
Memorability in Advertising: Its distinctive nature would likely make it more memorable in marketing materials, supporting brand recognition.
Cultural and Emotional Connection:
Emotional Engagement: By employing universal symbols like a flower, the logo may have engaged customers emotionally, creating a connection beyond mere transportation service.
FlyNordic: Brand overview
| | |
| --- | --- |
| Founded: | 1996 – 2008 |
| Founder: | Finnair Group |
| Headquarters: | Stockholm, Sweden |
Launched in 1996 as Reguljair, FlyNordic was initially created as a regional arm of Finnair based in Sweden. Its initial operations focused on domestic routes within Sweden and some international flights to Finland and Norway.
By the early 2000s, the airline transitioned its business model and adopted the FlyNordic brand, embarking on providing low-cost air travel across Scandinavia and broader Europe. From its hub in Stockholm, FlyNordic took on major budget competitors like Ryanair and easyJet.
Operated by a fleet of Boeing 737 aircraft, FlyNordic serviced up to 30 European destinations. Despite being a part of the Finnair Group and collaborating closely with its parent company, the airline grappled with high operating costs, which made profitability challenging amidst larger low-cost rivals.
In 2007, as a part of its growth strategy in Scandinavia, Norwegian Air Shuttle acquired FlyNordic. A year later, by 2008, the operations of FlyNordic were entirely integrated into Norwegian Air Shuttle.
At the zenith of its operations, FlyNordic boasted of carrying around two million passengers annually and employed over 400 staff members. Despite its earnest efforts to establish a low-cost travel option in Scandinavia, the airline faced stiff competition from more rapidly expanding budget rivals on similar routes.
Meaning and History