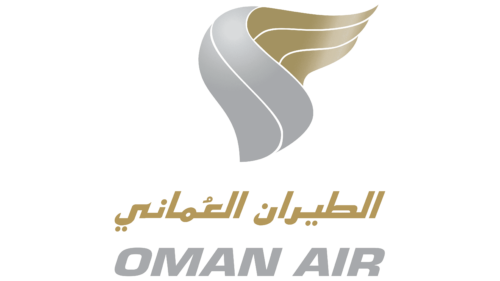 Oman Air Logo PNG
The Oman Air logo is a unique combination of symbols that reflect Oman's history and culture and the brand's values and principles. The top of the emblem resembles the flame of a torch, symbolizing the energy and passion that the company puts into its services. This symbolism emphasizes the importance of speed and reliability in air travel.
Gold and silver gradients add luxury and elegance to the brand image. Gold symbolizes wealth and success, as the high level of service provided by Oman Air. Silver gives the badge restraint and business-like character, indicating professionalism and reliability.
The lower part of the logo contains the company's name in Arabic and English. The Arabic inscription is written in italics, which is elegant and stylish. The English inscription is written in upper case italics, which creates a sense of dynamism and movement.
Oman Air emblem is a symbol of a strong and successful brand that strives to provide its customers with the most comfortable and high-quality service in the air sphere. The visual mark shows professionalism, reliability, dynamism, and restraint.
The identity of Oman Air is a stylish and recognizable image, which shows the company's high quality of service and innovative spirit. It is an integral part of the brand and embodies all its key principles and values.
| | |
| --- | --- |
| Founded: | 1993 |
| Founder: | Oman Aviation Group |
| Headquarters: | Muscat International Airport, Muscat, Oman |
| Website: | omanair.com |
Oman Air, the flagship airline of Oman, began its journey in 1993, with its base of operations located in Muscat. The carrier provides regular services to more than 40 domestic and international destinations spanning the Middle East, Asia, Europe, and Africa.
The principal hub for the airline's operations is Muscat International Airport, and its fleet comprises around 50 aircraft from prominent manufacturers such as Airbus and Boeing. The Government of the Sultanate of Oman wholly owns Oman Air, which employs approximately 4,000 staff members.
In 2021, Oman Air made a significant move by joining the Oneworld airline alliance, marking the first addition of a full member to the alliance in six years. Travelers on Oman Air can choose from three distinct classes of service – First Class, Business Class, and Economy Class. Each class encapsulates the essence of Omani hospitality and offers a range of premium amenities.
The airline has been recognized with numerous accolades for its exceptional passenger experience and high service standards. Its commitment to quality service is reflected in its policy to serve complimentary meals on all its flights and to offer personalized in-flight entertainment across all classes.
Oman Air's portfolio of services isn't limited to passenger flights; it includes charter and cargo services. A key part of the airline's strategic growth plan is expanding its international network to establish Muscat as a major global hub, contributing to Oman's tourism growth. Despite facing the challenges of a competitive airline industry, Oman Air remains dedicated to enhancing its services and expanding its reach.
Meaning and History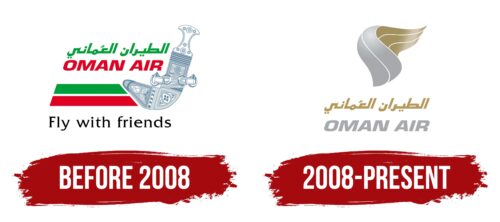 Before 2008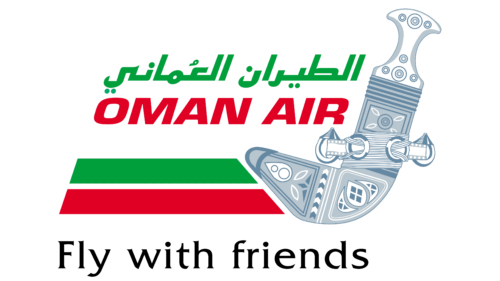 2008 – today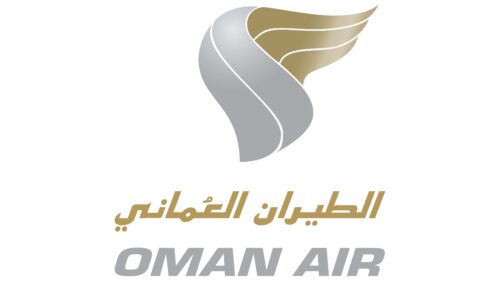 Oman Air color codes
Aztec Gold

Hex color:
#b4985a
RGB:
180 152 90
CMYK:
0 15 50 29
Pantone:
PMS 7562 C
Dark Gray

Hex color:
#a7a9ac
RGB:
167 169 172
CMYK:
3 2 0 33
Pantone:
PMS Cool Gray 6 C