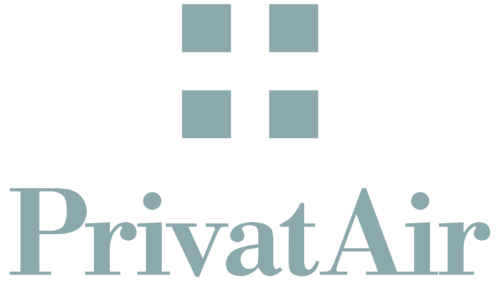 PrivatAir Logo PNG
PrivatAir logo perfectly reflected the company's business jet transportation services offering through its orderly and structured design. This emblem clearly expressed a business-like approach that extended to visual identification. The upper half of the logo was occupied by four squares arranged so that the free space between them looked like a cross. Below these shapes was the brand's name, written in a font with long thin serifs, unusual cuts (in the "t"), and bold round dots at the ends (in the "r" and "a"). All elements were in gray.
Orderly and Structured Design:
Design Features: The logo's alignment and structure, where everything is placed symmetrically and meticulously.
Meaning and Implication: The precision of the design symbolizes the company's commitment to excellence, reliability, and professional services.
Four Squares and Cross:
Design Features: Four squares positioned to create a cross shape in the negative space.
Meaning and Implication: The squares signify strength and stability, while the cross shape represents connectivity and integration, mirroring the company's global reach and interconnected services.
Font Style and Detailing:
Design Features: Long thin serifs, unique cuts in the "t," and bold round dots at the ends of the "r" and "a."
Meaning and Implication: The unconventional font style symbolizes innovation, elegance, and a tailored approach, showcasing the company's attention to detail and quality.
Gray Color Scheme:
Design Features: Uniform use of gray across all elements.
Meaning and Implication: The gray color embodies professionalism, neutrality, and sophistication, aligning with the company's focus on serving the business sector.
Business-Like Approach:
Design Features: The overall stern and structured appearance of the logo.
Meaning and Implication: The logo echoes the firm and business-oriented approach, resonating with the brand's clientele who seek high-end and precise services.
Brand Identity Alignment:
Design Features: All visual components work in harmony.
Meaning and Implication: The cohesive design is consistent with the brand's identity of offering premium, punctual, and precise aviation services.
Visual Impact and Recognition:
Design Features: The balance and visual appeal of the logo.
Meaning and Implication: Its striking and memorable design contributes to brand recognition, creating a strong and lasting impression.
Conclusion and Overview:
Symbolic Representation: The logo serves as a multi-dimensional reflection of key brand attributes such as excellence, innovation, connectivity, and professionalism.
Business Alignment: The visual elements collectively articulate the brand's core offerings, positioning, and values, ensuring a robust and resonant brand image.
PrivatAir: Brand overview
| | |
| --- | --- |
| Founded: | 1977 – 5 December 2018 |
| Founder: | Latsis family |
| Headquarters: | Baar, Switzerland |
PrivatAir, a charter operator rooted in Switzerland, was founded in 1977 by the affluent Latsis family of Greece, initially as a business aviation charter operator.
Throughout the 1990s, PrivatAir evolved into a full-service airline that offered VIP-configured aircraft globally for corporate and private charters. The airline positioned itself as a boutique business-class service provider when it introduced its first significant scheduled service in 2001, offering flights between Düsseldorf and Newark using an ultra-long-range Boeing 767.
PrivatAir executed premium long-haul flights for other airlines in the following decade, including esteemed names like Lufthansa and KLM. They covered unique routes such as Düsseldorf to Tokyo, further consolidating their niche.
However, the dynamic market conditions of the early 2010s saw most major airlines pulling back their contracts with PrivatAir, opting to invest in their services instead. The loss of contracts and inability to secure fresh investments led to a decline in PrivatAir's operations.
In 2018, after over four decades of service, PrivatAir was forced to declare bankruptcy and discontinue operations. At its zenith in the 2000s, PrivatAir operated a fleet of over 15 aircraft, offering premium services to passengers on corporate jets and unique scheduled routes worldwide.
The downfall of PrivatAir underscored the challenges faced by independent premium airlines when competing against first-class products offered by major national carriers. The industry dynamics proved that maintaining a niche model in the aviation sector was difficult.
Meaning and History