Sound.xyz Logo PNG
Sound.xyz logo takes a subtle yet effective turn from its previous iteration to offer a clearer representation of its platform dedicated to monetizing musical creations. Designers elongated the formerly flattened 'S' to make it more discernible while preserving the wavy edges resembling staircase steps—embodying an authentic web service element. The emblem includes the domain address, which harmoniously complements the brand name. The inscription is crafted in a small, sans-serif font and aligns with the lower part of the glyph.
The stretched 'S' in the emblem isn't a simple aesthetic choice but serves a dual purpose. It enhances visibility and symbolizes upward mobility and growth, which the platform aims to provide for artists. Elongating the 'S' creates an upward movement, capturing the platform's goal of raising artists to higher levels of visibility and financial success.
The wavy edges that resemble staircase steps are equally significant. These features tell a story of progression and ascension, subtly emphasizing that success in the music industry doesn't happen overnight but is a step-by-step journey. It reflects the many hurdles and milestones an artist must overcome to succeed, matching perfectly with the platform's objective of aiding musicians in that exact journey.
Including the domain address in the logo represents more than a mere navigational aid. It is a constant reminder that this platform is easily accessible and always within reach for its user base. The small sans-serif font utilized for the inscription serves as an aesthetic unifier. It provides readability while also creating a sense of modernity, tying it all back to the technological aspect of the service.
Sound.xyz understands the importance of striking the right balance between form and function. The logo embodies this balance by pairing meaningful design elements with practical features. It gives potential users an immediate sense of what to expect—innovation, growth, and a user-centric approach, which are core to its mission.
The attention to detail in the design showcases the brand's commitment to its users. It succeeds in communicating the essence of what the platform stands for—helping artists grow, monetize, and climb the steps to their pinnacles of success. It's more than a pretty picture; it's an emblem with layers of meaning, each thoughtfully chosen to reflect the platform's multi-faceted role in the music industry.
Sound.xyz: Brand overview
| | |
| --- | --- |
| Founded: | 2021 |
| Founder: | Vignesh Hirudayakanth, David Greenstein, and Matt Masurka |
| Headquarters: | USA |
| Website: | sound.xyz |
Established in 2021 by Vignesh Hirudayakanth, David Greenstein, and Matt Masurka, Sound.xyz emerged as a unique solution for artists looking to benefit from their music using NFTs or non-fungible tokens financially. The platform is built on the Ethereum blockchain, allowing musicians to transform their songs into NFTs. These musical NFTs are then available for fans to acquire, granting them ownership of the track and special perks like joining the artist's Discord server.
Its zero-commission policy sets Sound.xyz apart from conventional music streaming services. Artists retain all the revenue generated from sales, financially making it a more attractive option. Late in 2021, the start-up succeeded in securing $5 million in seed capital in a funding round spearheaded by Andreessen Horowitz. Notable investors participating in the round encompassed DJ Drama, Holly Herndon, and 21 Savage.
Initially operating in a closed beta version that included 500 artists, the platform was accessible to all musicians in July 2022. The company has already distributed $5.5 million to artists and facilitated the release of 1,600 NFTs for individual songs. Another fundraising event occurred the same month, resulting in an impressive $20 million Series A funding round. Again, Andreessen Horowitz took the lead, bringing the total capital amassed by Sound.xyz to $25 million.
With a foundation in web3 technology, Sound.xyz is not just another music platform. It is designed to revolutionize financial structures and incentives in the music industry. The ambition is clear: to enable artists to earn a living and extend their musical reach.
Meaning and History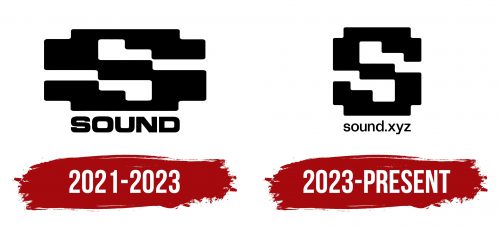 2021 – 2023

2023 – today