Swift Air Logo PNG
Swift Air: Brand overview
iAero Airways, formerly Swift Air, has blazed a unique trail in the airline industry since its inception in 1997. Headquartered in Greensboro, North Carolina, this dynamic airline has played a key role in shaping the industry.
From its humble beginnings as a charter airline, Swift Air has distinguished itself by offering customized and adaptable flights.
A major milestone in Swift Air's history was its partnership with U.S. Immigration and Customs Enforcement (ICE).
Building on this success, Swift Air expanded its services to include aircraft management.
Strategically located at Miami International Airport, Swift Air's main hub provides a launching pad for domestic and international travel.
Swift Air's prominent position allows it to be one of the leading charter airlines in the United States.
Meaning and History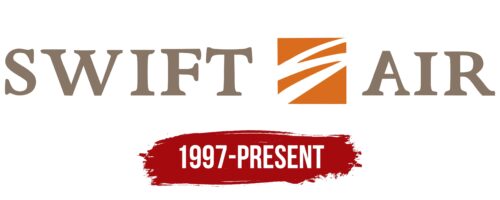 What is Swift Air?

Founded in 1997 by Jerry Moyes, Swift Air has grown into a leading charter airline offering both passenger and cargo transportation to various destinations around the world. A wide range of aircraft, including the well-known Boeing 737 and 757, provides a high degree of flexibility to meet different customer requirements. Swift Air has achieved many successes and has established itself as an industry leader.
1997 – today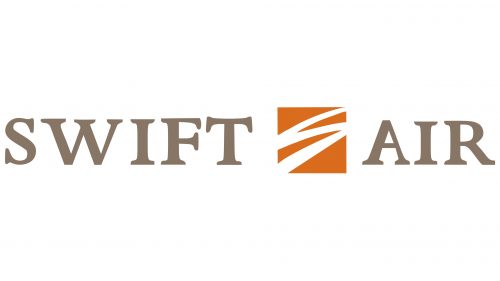 Swift Air's logo can be characterized as businesslike and formal, radiating professionalism and a desire for uplift and growth. The name of the Spanish airline consists of two parts separated by an orange-brown square with a white zigzag. Lines of moderate width divide the geometric figure into four triangles of different shapes. The text is placed on both the right and left sides of the square and is in bold serif font. The letters are large, capitalized, and heavy, which inspires confidence. The glyphs are colored dark gold.
The orange-brown square with white zigzag gives the logo complexity, symbolizing the versatility of aviation. The dark gold color of the text signifies luxury or a high level of service, which matches the overall business tone of the logo. The differently shaped triangles within the square symbolize the different paths or directions that the airline seeks to find for its development and improvement.