Alienware is an American manufacturer of computers and digital peripherals and is located in Miami, Florida. The company was founded by Alex Agila, Frank Azor, and Nelson Gonzalez in 1996 and is now part of Dell Corporation. The brand is known and operates in nearly 40 countries around the world.
Meaning and History

What is Alienware?

This is a US company that specializes in assembling PCs and laptops from components from other manufacturers. Digital technology is focused on computer games and graphics applications, which are especially demanding on performance.
The logo appeared in the year of the company's foundation and presents an unusual graphic visualization – both in fonts and pictures. The result of this connection is a symbol that is difficult to confuse with any other sign. Characteristic features of the logo: minimalism, elegance, and technical orientation. This makes the logo not only modern but also narrowly oriented, indicating a specific area of activity.
Font and Color of the Emblem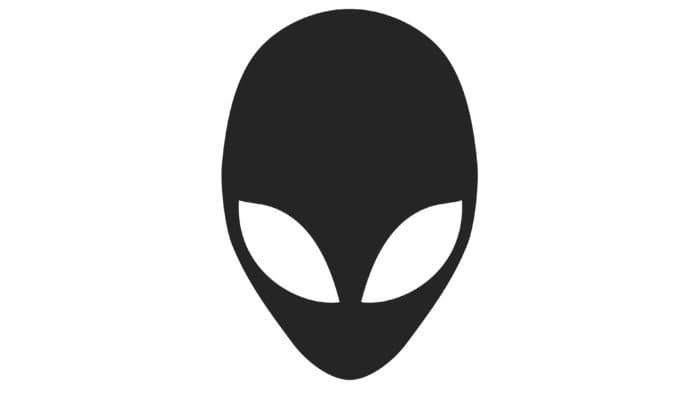 What does the Alienware logo mean?
Its logo features a name, slogan, and icon. They are made in the same style – monochrome elements of strict design. On the right is a sign in the form of an alien's head with almond-shaped pupils located diagonally.
Corporate identity consists of text that includes the name and code phrase, i.e., corporate slogan. The inscription "Alienware" is made in upper case printed font. Under the inscription, there are the motto "High-performance gaming systems." It is represented by angular letters reminiscent of symbols of some computer programs.
The graphic symbol is no less interesting: a dark head of an alien is drawn on a light background. The head has an elongated shape with a broad forehead and narrow chin. The symbol is painted in black, except for the oval eyes, which are made white, making the eyes look empty and mysterious.
Is Alienware from Dell?

Yes, Alienware is owned by Dell. She agreed to buy it to improve her image, expand her consumer segment and increase her profile among digital enthusiasts.

Does Alienware still exist?

Alienware still exists. In 2006, Dell bought it and made it it's subsidiary. It is still engaged in the production of ultra-high-performance computers and gaming laptops.

How much does Alienware cost?

Alienware's latest gaming innovations, released in 2021, start at around $ 2,000.
The intriguingly creepy symbol is located to the right of the text. It is mostly located next to the word "Alienware" and only slightly descends to the company motto. This graphic technique is an example of cult style and aesthetic intrigue. The symbol effectively distinguishes the company from its competitors and reflects the type of its activities.