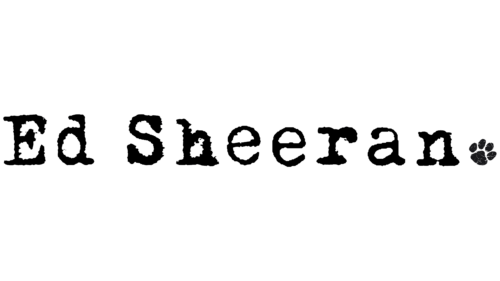 Ed Sheeran Logo PNG
The Ed Sheeran logo, featuring his name in black, seems as though it was originally printed on a paper sheet that subsequently became wet, causing the ink to blur slightly. This emblem showcases the British singer-songwriter's unique artistic approach, using a retro-style design to complement his creative flair.
Observing the logo, one might be reminded of typography that appears smudged or blurred, much like that of CarbonType by Vic Fieger or Fletcher Typewriter by Ana's Fonts. These are examples of authentic monospaced fonts that fall under the typewriter category. The emblem's design can be seen as a manifestation of Sheeran's music, often viewed as raw and authentic, undeniably unique, and filled with emotion, much like the blurred lines of the ink.
An intriguing element of the logo is the small paw print. According to Sheeran himself, it belongs to a tiger and does not carry a particular meaning, serving merely as an ornamental detail. This is symbolic of the artist's persona – playful yet mysterious, keeping the audience intrigued. This little touch of whimsy adds a certain charm to the logo, reflecting Sheeran's casual and down-to-earth nature.
The retro-style design of the logo serves as a testament to Sheeran's music, which, while contemporary, often draws from older musical influences. Just like the vintage charm of the logo, his music is a blend of the new and the old, creating a sound that is both familiar and innovative.
The emblem design of Ed Sheeran encapsulates the distinctive charm of the singer-songwriter's music and personality. The blurred typography speaks to his raw, authentic music, while the small paw print adds an element of whimsy, reflecting Sheeran's playful nature. The design's vintage appeal resonates with his music's timeless quality.
Ed Sheeran: Brand overview
| | |
| --- | --- |
| Founded: | 2004 – present |
| Founder: | Edward Christopher Sheeran |
| Headquarters: | Framlingham, Suffolk, England, U.K. |
| Website: | edsheeran.com |
Hailing from the humble corners of West Yorkshire, England, Ed Sheeran's phenomenal ascension to global fame as a singer-songwriter is an extraordinary tale of talent and tenacity. Born on February 17, 1991, Ed Sheeran's childhood days in Suffolk were brimming with a deep-seated love for music, and his journey to stardom is an inspiring narrative for dreamers everywhere.
Sheeran kick-started his musical voyage by performing at local gatherings and venues, honing his skills as an artist and lyricist. The release of his first EP, "The Orange Room," in 2005 gave him his initial taste of the industry's attention. However, his career trajectory truly began its upward climb when he relocated to London in 2008.
2011 marked the entry of Sheeran into the spotlight with his maiden album, "+." The album took the music world by storm, reigning over the charts in numerous countries and earning Sheeran well-deserved acclaim for his unique amalgamation of folk, pop, and hip-hop. His fanbase expanded considerably, and in 2014, he delivered his second album, "x," unveiling blockbuster tracks like "Sing" and "Thinking Out Loud."
2017 was the year that Ed Sheeran firmly established himself as an international music sensation with his third album, "÷." With chart-topping singles such as "Shape of You" and "Castle on the Hill," the album rocketed to global success. His illustrious career has won him four Grammy Awards, along with a myriad of other accolades and honors.
Beyond his musical prowess, Ed Sheeran is a dedicated philanthropist and advocate. He has contributed his efforts to various charitable endeavors, including fundraising for children's hospitals and promoting mental health awareness. A notable highlight was his participation in the "One Love Manchester" benefit concert in 2017, which raised funds for the victims of the Manchester Arena bombing. Sheeran continues to make a positive impact through both his music and his philanthropic pursuits.
Ed Sheeran's extraordinary rise to prominence stands as a powerful testament to his exceptional talent, relentless commitment, and indefatigable work ethic. His enchanting melodies and magnetic persona have established him as one of the most influential musicians of his era. His indelible mark on the music industry and beyond promises to resonate for generations to come.
Meaning and History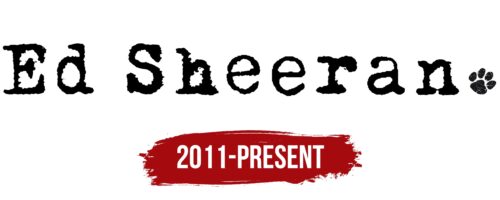 His brand identity is characterized by simplicity and authenticity. It's not just about the music; it's about the relatable stories told through his lyrics, which often touch upon themes of love, loss, and the highs and lows of life. His unassuming demeanor and distinctive ginger hair have become synonymous with his brand, setting him apart from the often glitzy and glamorous world of pop.
In addition to his music, his brand extends to his philanthropic work and personal values. Known for his kind-hearted nature and down-to-earth personality, he actively engages in numerous charitable causes and is vocal about issues close to his heart. This further amplifies his image as a relatable and compassionate figure in the music industry.
His unique approach to branding – valuing authenticity, relatability, and heartfelt storytelling above all else – continues to resonate deeply with his global audience. The essence of his brand lies in his ability to remain true to himself and connect with listeners on a deeply emotional level, making him a successful musician and a beloved figure in the world of music.
What is Ed Sheeran?

Ed Sheeran, born Edward Christopher Sheeran on 17 February 1991, is a renowned English singer-songwriter whose music has reached the hearts of millions around the globe. His journey into the world of music began when he started recording music in 2004, and by 2011 he had catapulted to fame with his debut album "+," establishing him as a formidable force in the pop music industry.

His music, an intimate blend of folk and pop underscored by his lyrical storytelling and distinctive voice, has consistently topped charts worldwide. With chart-topping hits like "Shape of You," "Perfect," and "Thinking Out Loud," he continues to showcase his immense talent, and his music continues to touch people of all ages from all walks of life.
Ed Sheeran color codes
Black

Hex color:
#000000
RGB:
0 0 0
CMYK:
0 0 0 100
Pantone:
PMS Process Black C