Ernie Ball Logo PNG
Ernie Ball's logo emanates charisma, with an unusual design imbued with a touch of cubism, a modernist style that has greatly influenced its visual identity. Its innovative design, influenced by cubism and dynamic typography, reflects the brand's identity and role in the music industry. By thoughtfully combining elements such as massive glyphs, thin lines, a Roman typeface, and the color black, the logo effectively communicates the brand's passion, innovation, and dedication to quality.
Cubist Design: The logo adopts elements of cubism, an artistic movement known for breaking subjects into geometric forms. This typography approach brings an unconventional design, adding a sense of creativity and innovation. Just as cubism challenged traditional art forms, the company challenged the conventional in the realm of guitar accessories.
Massive Glyphs and Thin Lines: The logo comprises massive glyphs, where thin lines harmoniously blend with unusual thickening. This combination balances both boldness and refinement. It signifies the brand's commitment to delivering robust yet intricately designed guitar accessories.
Dynamics: The distinctive typography captures a sense of dynamism, crucial to the brand's identity. It mirrors music's energetic and vibrant essence, especially as the brand specializes in manufacturing guitar accessories.
Overlapping Characters: The characters overlap due to their varying heights, adding more internal energy to the logo. This characteristic echoes the complexity and layers of music compositions, reflecting the brand's understanding and appreciation of music's multifaceted nature.
Roman Typeface in Upper Case: The inscription is created using an uppercase Roman typeface known for its readability and classic beauty. This choice denotes professionalism and stability, strengthening the brand's image as a reliable provider of quality guitar accessories.
Black Color: The logo is painted black, a color that is universally associated with power, elegance, and sophistication. It resonates with the brand's commitment to providing superior quality products and indicates the seriousness with which the company undertakes its role in the music industry.
Connection with the Music World: The unique design and style of the logo mirrors the brand's deep-rooted connection with the music world. It underscores the company's role as a game-changer and creative force in the industry, just as cubism revolutionized the art world.
Ease of Recognition: The logo's unique design ensures easy recognition, an essential aspect of effective branding. Its distinct style makes it stand out, helping to differentiate the brand in a competitive market.
Reflection of Brand Identity: The logo successfully communicates the brand's identity – innovative, bold, and deeply connected to the world of music. It tells a story of the company's journey, its commitment to quality, and its passion for music.
Ernie Ball: Brand overview
| | |
| --- | --- |
| Founded: | 1957 – 2004 |
| Founder: | Roland Sherwood Ball |
| Headquarters: | California, U.S. |
Established in 1957 in Tarzana, California, Ernie Ball was the brainchild of Roland Sherwood "Ernie" Ball. As a professional guitarist and instructor, Ernie started crafting and marketing guitar strings from his garage.
In 1962, the company's operations were relocated to San Luis Obispo, California, and the firm's attention turned exclusively towards the production of guitar strings. Ernie Ball utilized lighter gauge strings, an innovation that quickly gained favor among rock guitarists of the 1960s and 70s.
During these two dynamic decades, several renowned guitarists, such as Eric Clapton, Keith Richards, Jimmy Page, and Pete Townshend, made Ernie Ball strings their choice. The company supported these celebrated musicians by sponsoring their tours and supplying custom string sets.
In the 1980s, Ernie Ball diversified its product line, incorporating new alloys into its strings and starting to coat the strings to prolong their tone life. The company also ventured into producing related accessories, including straps, picks, and cables.
After acquisitions by larger musical equipment corporations in the 1990s and 2000s, Ernie Ball is now a part of Ernie Ball Inc., functioning as a subsidiary of the Fender Musical Instruments Corporation (FMIC).
Today, Ernie Ball produces over 200 varieties of electric and acoustic guitar strings in California and distributes them globally. Musicians of varied genres, from rock to blues to country, choose to play Ernie Ball strings.
Meaning and History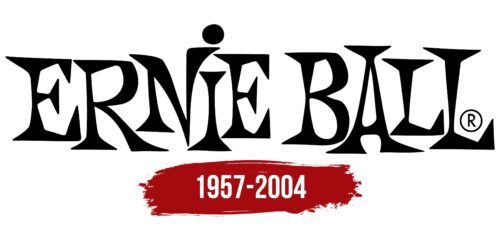 What is Ernie Ball?

Ernie Ball is an American manufacturer of guitar accessories whose strings are highly valued worldwide. The company was opened in 1962 by an entrepreneur who named it after himself. After the founder died in 2004, the musical corporation passed to his heirs, and it is now under the management of the Ball family. Its headquarters are located in San Luis Obispo, California.
Ernie Ball color codes
Black

Hex color:
#000000
RGB:
0 0 0
CMYK:
0 0 0 100
Pantone:
PMS Process Black C