Nickelback Logo PNG
Nickelback: Brand overview
Emerging in 1995, Canadian rock ensemble Nickelback has firmly established itself as a musical force. Consisting of Chad Kroeger – vocals and guitar, Ryan Peake – guitar and backing vocals, Mike Kroeger – bass guitar, and Daniel Adair – drums and percussion, Nickelback has been delighting audiences with their unique sound and soulful performances for over two decades, hailing from Hanna, Alberta.
In 1996, Nickelback began their musical journey, performing cover songs in local bars and clubs across Alberta. The release of their debut album "Curb" brought them some recognition in Canada. But it wasn't until the release of their third album, "Silver Side Up," that the band became known worldwide.
The year 2001 was a turning point in Nickelback's career with the release of the album "Silver Side Up." It was during this period that the band's popularity really took off. The album included two of the band's most famous singles – "How You Remind Me" and "Too Bad," which quickly rose to the top ten of the Billboard Hot 100 chart. The album sold 10 million copies worldwide and was nominated for a Grammy Award for Best Rock Album.
However, the triumph of "Silver Side Up" was only a prologue for Nickelback. The band's ascent continued throughout the 2000s, marked by the release of "The Long Road" and "All the Right Reasons". Hits such as "Someday," "Photograph," and "Rockstar" further cemented Nickelback's reputation as one of the most successful rock bands of the decade.
Despite their commercial triumphs, Nickelback has been heavily criticized and ridiculed by music critics and the public. They are often accused of creating monotonous, formulaic rock music with uncreative lyrics. In particular, in 2011, a petition to ban Nickelback from performing in London, England, garnered an astounding 55,000 signatures!
Nickelback has managed to maintain its fan base over the years, releasing albums such as "Here and Now" and "Feed the Machine." While the band's mainstream success may not have reached the level of its early years, its fervent and loyal fans continue to support the band around the world.
Regardless of individual opinions, Nickelback's influence on the rock music industry is undeniable. Their catchy melodies and energetic live performances have captured the hearts of millions of fans around the world. Their music is still played on rock radio stations around the world. Whether you like them or not, Nickelback's influence on the history of rock music is undeniable.
Meaning and History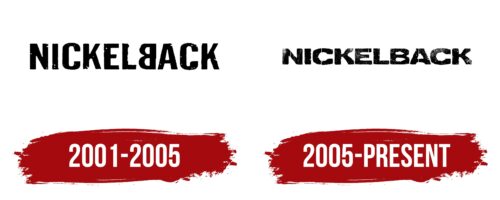 What is Nickelback?

Nickelback is a Canadian rock band formed in 1995 in the town of Hanna, Alberta, and has taken its rightful place in world rock music. Starting from humble beginnings, the band has grown into one of the most recognizable names in modern rock music. Nickelback's music, which combines elements of heavy metal, rock, and post-grunge combined with insightful and often introspective lyrics, resonates with many fans.

Thanks to their exciting performances and chart-topping albums, the band has achieved international fame. Their sound, characterized by strong, catchy "hooks" and easy-to-remember lyrics, has quickly resonated with listeners, allowing them to spread their influence far beyond their Canadian roots. This formula for success has provided them with commercial success and personal identification with many listeners.
2001 – 2005

2005 – today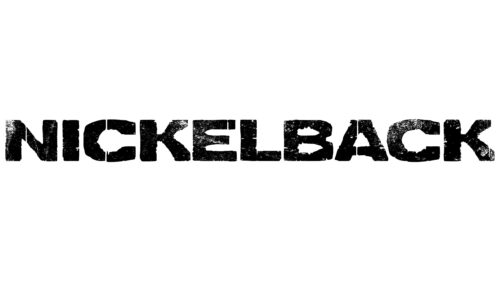 Nickelback's logo looks like blurry lettering, as if it was either poorly printed on a printer or aged and faded. Despite this, it is easy to read, as the designers used a simple bold sans serif font. It gives the impression that the black letters emerge from the empty white space. This helps to focus attention on the name of the music band.
The fuzzy look is reminiscent of a classic worn band t-shirt that can be kept for years. It's simple but speaks volumes as a shout-out to those who like raw and unpolished rock music. The black and white combination is old-school, but in a good way, evoking a desire to listen to some retro tunes.
Nickelback color codes
Black

Hex color:
#000000
RGB:
0 0 0
CMYK:
0 0 0 100
Pantone:
PMS Process Black C