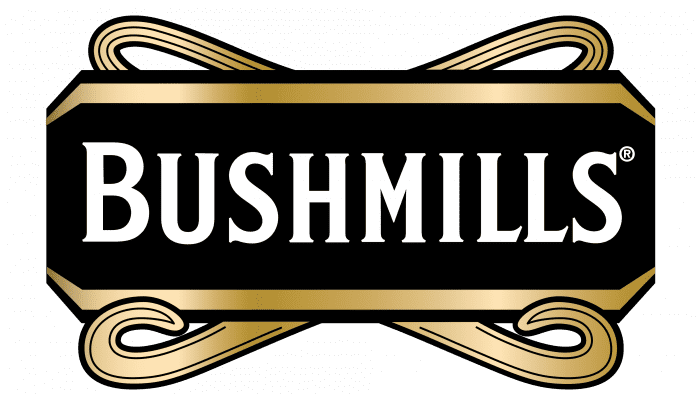 Bushmills Logo PNG
The whiskey emblem testifies to the valor and heroism of the buyers of the product. The elitism of alcohol is visible in every element of the visual sign. The Bushmills logo represents the best drink for the most deserving and courageous.
Bushmills: Brand overview
| | |
| --- | --- |
| Founded: | 1784 |
| Founder: | Casa Cuervo |
| Headquarters: | Bushmills, County Antrim, Northern Ireland |
| Website: | bushmills.com |
Bushmills is an Irish whiskey brand renowned for its historical heritage and mild flavor. It began production at a distillery built-in 1885. Today, the legendary distillery is a tourist attraction. Since the end of 2014, Old Bushmills Distillery belongs to the Jose Cuervo concern.
Meaning and History
The brand logo is minimalist. The word "Bushmills" is written in large letters in the most conspicuous place. The distillery is named after the native village, so the trademark can be considered a tribute to ancient traditions. All printable characters are lowercase, but "B" is above the rest. The font is even and sharp-angled, with short serifs.
The caption is in the center of the cut-off rectangle. The top and bottom of the geometric shape are outlined in wide golden lines with a dark outline. They are complemented by curved ribbons of the same color, emphasizing the special status of Irish whiskey.
The designers originally designed the logo using a gradient. Due to the smooth transition of shades, it seems that the drawing is glowing from the inside. This graphic effect reflects the premium quality of Bushmills and its products.
Font and Colors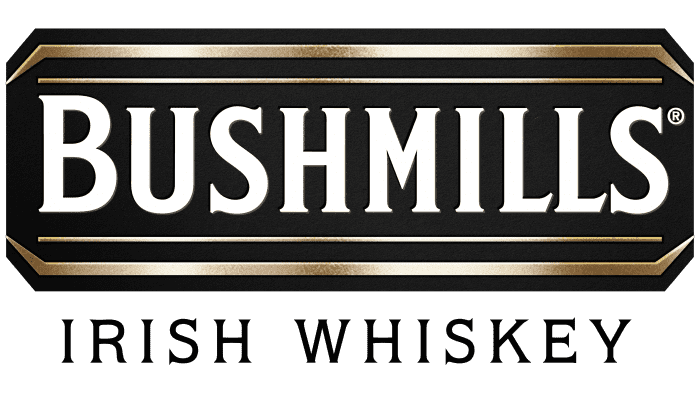 The Irish whiskey logo is surprisingly stable. Suppose there were any corrections, then absolutely insignificant ones related to the varietal differences of the alcoholic drink to emphasize its individuality. The key element is white lettering on a black background. This is the brand name, in capital letters with a "B" emphasis placed above the rest.
The word "BUSHMILLS" above and below is taken in wide linear frames of golden color. They form a horizontal rectangle with clipped corners. The appearance depends on the type of whiskey. For example, there is an option with a tape collected by rings, and there is a version with a curl at the top. There is also a version without ribbons – with two thin stripes on the inside and the inscription "IRISH WHISKEY" at the bottom. All elements are edged except for letters.
The designers chose an elongated font with miniature serifs for the logo, which looks like classic extensions at the letters' ends. Only sharp projections are visible from them. The inter-character distance is average, but in the last two "L" and "S," it is reduced to a minimum, so the signs almost touch.
The corporate palette is monochrome. It consists of only two colors: black and gold. The first is a contrasting background for the second, which denotes the natural shade of whiskey.
Bushmills color codes
Gold

Hex color:
#cfad65
RGB:
207 173 101
CMYK:
0 16 51 19
Pantone:
PMS 7407 C
Black

Hex color:
#000000
RGB:
0 0 0
CMYK:
0 0 0 100
Pantone:
PMS Process Black C